Claiming to be 'the biggest bar in Asia', Hangzhou's G+ Club covers more than 20,000sq-ft and required a sound system to suit. Taking its cue from some of the West's leading clubs, the venue's owners have installed a full lineup of JBL loudspeakers and Harman supporting technology.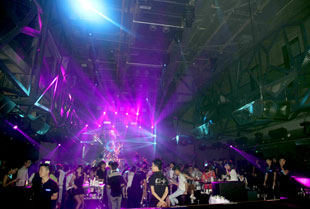 The installation uses Marquis Dance Club Series loudspeakers, JBL Control CRV loudspeakers, JBL ASB subwoofers, Crown I-Tech HD amplifiers, AKG microphones, Soundcraft digital consoles, BSS Audio signal processing and Lexicon effects processing.
The Marquis Dance Club loudspeakers – 18 MD52s and 48 MD55s – are stacked in tight spaces and also suspended from the ceiling for maximum coverage of the club's multiple floors. To complement these, the club also uses 16 JBL ASB6125 subwoofers, six JBL ASB7118 subwoofers, 16 JBL ASB7128 subwoofers, 12 JBL Control CRV loudspeakers, 16 Crown I-Tech 4x3500 HD amplifiers and eight Crown I-Tech 12000 HD amplifiers.
The speaker system is managed bya BSS Blu-800 signal processor, and fed by a Soundcraft GB4 mixer using a Lexicon MX400XL effects processor. Two AKG DSR700 and four DHT700 wireless microphone systems complete the installation.

See also:
JBL Marquis Dance Club Series
More:
www.jblpro.com

More:
www.soundcraft.com
More:
www.crownaudio.com

More:
www.lexiconpro.com
More:
www.akg.com