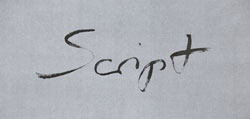 Following his extraordinary expedition to record a phenomenon called 'the ice whisper' in the coldest inhabited part of the Earth, German cross-media artist Juergen Staack has unveiled his latest project, Script.
Opened during July at the Cologne Artothek, the exhibition initially appears to offer nothing more than blank canvases. But as the space fills with visitors, four people begin to fill the canvases with words. Quickly, the visitors recognise themselves in the words. How can this be?
At the show's preview, four women with different mother tongues mingled with the visitors, describing what they observed to the 'writing partners' via pocket transmitters with headset microphones. Each writer heard these descriptions in English, Russian, Japanese or Greek via a small monitor receiver with earphones and then put them on one of the canvases using a paintbrush and a special fluid.
It is another part of Staark's unique exploration into image and language, and as with The Ice Whisper, it relies on audio technology for its success.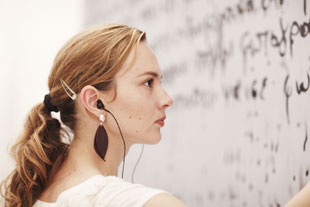 Essential to the performance were a number of Sennheiser wireless microphones and bodypack receivers. Specifically, the Artothek show uses four SK 2000 pocket transmitters with HSP 4 headset microphones for the describers and a further four EK 2000 IEM monitor receivers with in-ear headphones for the writers.
A number of additional monitor receivers were also used for documentation purposes (audio recording on dictaphones).
'In Script, the traditional relationship between observer and art is turned on its head – if anything, the canvas seems to perceive the observer,' Staack explains. 'The "describers" are the "eyes" of the canvases, as it were; the canvases are like mirrors working with abstract words rather than direct reflection.'
The transitory and fleeting nature of observation and of the thing observed is highlighted by the coating on the canvases – after a while, the liquid dries and disappears, so that new discoveries can continuously be recorded before they in turn disappear into the past.
In order to ensure that the performance would remain accessible, Staack filmed it during the week following the show's and converted it into a video installation together with the canvases, which still show traces of Roman, Greek, Arabic and Japanese text.
The installation continues its run at the Artothek until 24 August 2013.
See also:
More: www.sennheiser.com