A one-off show in readiness for a 2014 spring tour and the launchpad for a new album, German singer-songwriter Tim Bendzko performed in front of a capacity audience of 22,000 at Berlin's Waldbühne recently.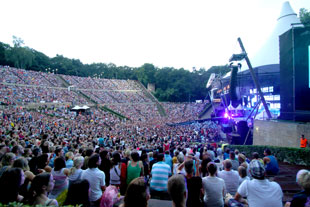 The Olympic Park was the setting for the Am Seidenen Faden (Hanging By A Thread) album launch and required both power and control for its sound. Even pattern control within the amphitheatre was achieved using Complete Audio's Martin Audio MLA system.
'The hill itself is very steep – the distance from the downstage edge of the stage to the highest at the top it is 108m,' MD André Rauhut notes. 'However, we did not need to use any additional delays, as some of our competitors have, to in order to get optimum coverage: that is the big benefit of MLA in this kind of venue.
His solution was to fly 13 MLA and a single MLD Downfill on each side of the stage. Three additional MLA´s were groundstacked as in fills to cover the close-field.
Fourteen MLX subs were configured with five enclosures on either side at stage level, with a further four in front of the stage as a broadside array. On the outer sides Complete Audio deployed four W8LM Mini Line Arrays, stacked on top of the MLX´s, to cover the bleachers.
In setting the coverage parameters in the system's Display2.1 software, the sound team set a 'Hard Avoid' area at the top of the hill 'because the city council takes its measurements there.' Rauhut explains, 'In setting this hard avoid zone right on the top we were able to gain a bit more level downhill – and that gave us about more 6dB headroom at FOH.'
Tim Bendzko's FOH technician, Stefan Lohr, had worked with MLA previously and was already aware of its attributes. He was supported by system techs Nils Uhthoff, Janine Fidrich – as well as Rauhut himself, who commented afterwards that 'the technical crew were more than happy with the sound … the words "superb" and "terrific" were used quite frequently after the show.'
More: www.martin-audio.com