Munro Acoustics has reported the completion of a major new studio for Philophon Post Production Studios in Luxembourg. The studio is the latest addition to the facilities at Filmland, Luxembourg's new film production complex, joining production offices, two 1,000m2 sound stages and a postproduction department.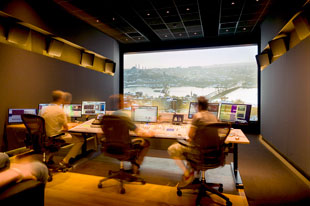 The Philophon studio features Dolby's Atmos object-based sound positioning system.
'It is great to be involved with the Atmos programme and this is our fifth project since its inception,' says Munro Acoustics founder, Andy Munro. 'Philophon is the perfect client; fully committed to quality and sound engineering of the highest standard. I have no doubt that cinema will embrace ATMOS as a truly innovative approach to soundfield creation.'
The company was founded in 2007 by production sound mixers Philippe Kohn and Carlo Thoss, and re-recording mixer Michel Schillings. Today its facilities include eight sound editing suites equipped with Dynaudio 5.1 monitors and two mixing stages.
Philophon's Munro-designed Studio A is based around a 32-fader Avid D-control control surface running three Pro tools HDX systems and Avid Media composer for picture playback. Audio monitoring is through a JBL speaker system, and other equipment includes three TC Electronic M6000 reverb units and a Cedar DNS 3000 de-noiser.
Philophon's core business is feature film sound design and mixing, but includes all types of sound for picture production, including documentaries and TV series. With both Philophon's founders and associates working as full-time production sound mixers, the company is able to follow and coordinate a film soundtrack from the shoot to the final mix.
More: www.munro.co.uk