Joining API's established 1608 distributors in South America, Visom Digital has added representation of the 1608 analogue mixing desk to the module lines it has carried in Brazil since 2012. 'After obvious success with API module products, it was logical that Visom now takes on representation of the 1608,' says API MD, Gordon Smart.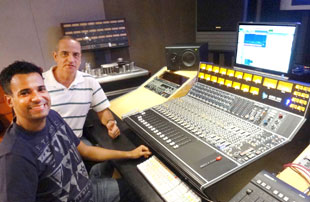 Located in Rio de Janeiro, Visom Digital is a working studio and audio technology development centre, as well as selling high-quality, high-profile sound recording equipment: 'We only sell what we use and this makes all the difference in credibility for our people,' says owner, Carlos de Andrade.
Visom Digital accommodates clients ranging from independent and major recording studios, to TV and radio stations. 'As an engineer I have always used API, as a salesman I believe in the product, and as a businessman it's just a good seller,' says de Andrade of the API product line. Visom also offers after-sales services, such as warranty, installation and training.
'For most distributors, a line like API requires great consideration of its tradition,' says de Andrade. 'For Visom, API is not a brand; it is a passion and a part of our history. We will not just sell API, we will evangelise and educate our clients on the ownership of an important part of professional audio.'
More: www.visomdigital.com.br
More: www.apiaudio.com