The Australia arm of Gearhouse Broadcast now has Riedel Communications Artist digital matrix intercom systems installed in five of its OB trucks, with two more slated for release in 2014,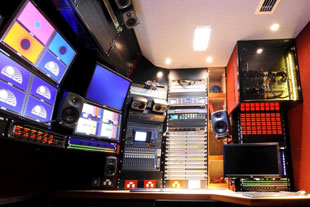 The Riedel systems serve as the core communications platform and commentary/announce systems for the company's mobile and remote productions. And, as early adopters of the Artist system, Gearhouse Broadcast currently holds Australia's largest complement of Riedel systems for OB use. The most recent OB trucks to be equipped with Artist intercom systems, HD5 and HD6, feature identical 192-port systems comprising a combined Artist 128 and Artist 64 system in a two-node configuration.
'We continue to choose the Artist system for its overall capabilities, the power and flexibility of its software, and the superior audio quality assured by internal digital audio routing,' says Head of Engineering, Stephen Edwards. 'We can easily merge and expand Artist systems across multiple OB trucks and facilities, and their integration with Lawo audio desks gives us the benefit of sharing signals and resources between the two systems.'
Located in Sydney and Melbourne, Gearhouse Broadcast's current OB fleet includes seven HD units of various sizes and two SD units. With these, the company covers a wide range of sporting and entertainment events, most notably Australian Rules Football (AFL) for Network 7, Super 15 Rugby and A-League Football for Fox Sports.
The Artist system is also in use at the UK Gearhouse Broadcast operation, which is part of the Gravity Media Group along with Gearhouse Broadcast Australia. Here, five Artist systems are used for international projects and mobile fly-away systems.
'As part of Gravity Media, the Gearhouse Broadcast businesses represent one of the biggest content production groups in the world, and it's great that Riedel has its support,' says Riedel Communications Solution Manager, Cameron O'Neill. 'We're working with the companies on a number of projects to make sure that, both with and without traditional OB units, they can deliver new and exciting content to TV and second-screen audiences.'