Located just outside of London, The Backstage Centre offers production rehearsal and training facilities, serving large-scale theatre and opera preparations, as well as arena-scale band rehearsals and recording facilities.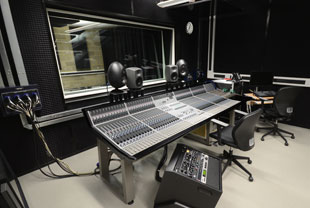 In adding a recording studio, the facility called on HHB Communications for the equipment supply and installation, and is now operating a 48-channel Audient 8024 analogue console with 48 bus modification and integral patchbay, and a Pro Tools HDX system with 48 analogue I/O. The studio also features a four-fader Avid Artist Control touchscreen control surface, and outboard gear from Universal Audio, Thermionic Culture, dbx and TC Electronic, plus Mogami audio cabling and Genelec loudspeakers.
Internationally renowned producer Robin Millar is the member of The Backstage Centre's Board of Trustees who was in charge of specifying the studio's equipment. He asked HHB to provide a studio with the ability to record from both its 5mx7m live room and the 35mx25m soundstage. Once the equipment was installed, leading acoustician Andy Munro was employed to put the finishing touches to the studio's acoustics.
The Centre's Technical Co-ordinator Jonathan Roberts is pleased with the Audient console, as he feels it provides an exceptional learning tool and a great sounding mixer for aspiring engineers: 'The audio equipment was provided by a grant from the Arts Council England, who specified that it should comprise high-quality, industry standard equipment for students to gain the knowledge to work in any recording studio in the world. South Essex College will be delivering its Recording Degree from here starting this September and the instructors are very impressed with our facilities.
'The HHB team were very helpful and knowledgeable throughout the entire process, and within two days of the console being delivered we had a fully functioning, professional recording studio.'
'Robin Millar's expertise, combined with the contributions of Andy Munro and the services and equipment supplied by HHB, have made the Backstage Centre a world-class facility,' says HHB International Sales Manager Matthew Fletcher.