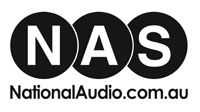 Ashly Audio has appointed National Audio Systems (NAS) as its distributor for Australia.
Headquartered in Melbourne, and with satellite offices in Sydney, Brisbane and Perth, NAS adds Ashly to a portfolio that includes d&b audiotecnik, Midas, Klark-Teknik, Cloud, SoundTube, Listen, Chiayo and inDesign.
'We like the direction Ashly is heading and the range of products the company makes,' says NAS Commercial Audio Sales Specialist, Richard Hulston. 'Ashly recently licenced Audinate's Dante digital networking technology, and is issuing a new DSP and amplifier series that meet the evolving needs of integrators. We see Ashly as a company developing relevant and new products that will satisfy the needs of our customers.
'We look forward to developing the Ashly brand within our portfolio and within the Australian market, and will build brand awareness among our customers through support and training.'
'National Audio Systems is small enough to care and big enough to matter,' says Ashly Director of Marketing Communications, Anthony Errigo. 'The company has an established reputation of looking out for the needs of its customers and commanding an authoritative knowledge of the latest in audio equipment and trends. We at Ashly are pleased to be partnering with them in Australia.'
More: www.nationalaudio.com.au
More: www.ashly.com