Coinciding with the first postproduction installation of a Nuage system in Belgium, Yamaha Commercial Audio has announced the appointment of Nuage Partner/resellers throughout Europe. Each Partner offers full-service capabilities – from in-house pre-sales Nuage demonstrations through to system installation, training and support.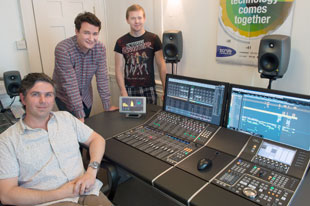 'Nuage is pushing seamless workflow integration to a new level, bringing together processes that require a multitude of devices, connections and interfaces in traditional systems,' says Thomas Römann, Technical Director at Hamburg-based Digital Audio Service. 'For us, Nuage is the archetype of a modern postproduction workflow and we are proud to offer it as one of the most up-to-date systems available.'
Nuage Partners have so far been appointed for Austria, Belgium, Bulgaria, Croatia, France, Germany, Greece, Lithuania, the Netherlands, Norway, Poland, Switzerland and the UK.
Nuage's unique combination of modular Yamaha control and interface hardware with Steinberg's Nuendo 6 software has brought a remarkable new flexibility to postproduction systems.
Based in Diepenbeek, Belgium, Amptec Professional Sound Solutions was the first Nuage Partner to supply a complete system, the installation of which is currently underway at Temple of Tune, one of the country's leading postproduction studios which offers sound design and recording for film, television, radio and commercials.
'We have a lot of experience with Yamaha hardware and consoles, Dante networking and Nuendo software, so we were very curious about what Nuage would bring to the post-processing industry,' says Amptec Sales Director Belgium, Harald Vanherf. 'We are very happy that we can offer this excellent solution to our customers, backed with the high quality service and support they have come to expect from us.'
In France, the appointment of 44.1 as a Nuage Partner is the evolution of a long working relationship with Yamaha: 'Nuage is particularly interesting because it delivers a modular and flexible alternative,' says 44.1 CEO Paul-Henri Wagner. 'It has the ability to easily interconnect with other audio devices – such as mixing consoles for live or broadcast sound – and offers a professional, ergonomic solution covering budgets ranging from €15k to €60k, making it accessible to a much wider customer base than other professional post-production systems.'
Scrub and Mediaspec – based in London and Scotland respectively – have been appointed as Nuage Partners in the UK. Scrub Head of Sales Ben Scully comments: 'Nuage is a reliable and customisable audio production system that offers some very attractive features. We have been very impressed by the design and flexibility of the system and feel it addresses the needs of the audio post community.'
Yamaha expects to announce further Nuage Partners 'in due course'.