With 30 Powersoft K10 KAesop and K20 KAesop amplifiers driving a main EAW PA, Las Vegas-based HAS Productions knew where to look for the amplifiers to accompany a new monitor system.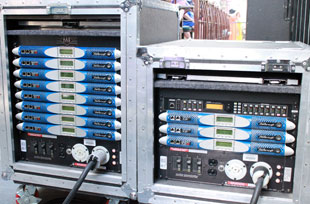 'After very close listening comparisons with the other top two DSP-based amplifiers, we found the Powersoft amps were much smoother on the high end, thumpier on the low end and not nearly as honky on the mids,' says HAS Productions President, Larry E Hall, Jr. 'With several people here for the three-way "blind" shootout, every single person choose the PA stack that was powered by K10s and K20s over the other brands.'
HAS Productions immedialtely purchased 20 K10 KAesop amplifiers to power its main EAW KF740 system and ten K20 KAesop amps for the system's EAW SB2001 subwoofers. Built around Adamson M15 and Radian Audio Apex wedges, the monitor package has been completed with the inclusion of 12 Powersoft K3 KAesop amplifiers.
'I have always prided myself on being hip on amp technology,' continues Hall. 'I have gone through several amp changes over the past seven years, trying to find a brand that just blows me away – and here it is.'
Although he had previously shied away from the 1U-high digital power amplifier form factor when considering alternatives, he adds, the Powersoft K Series proved to be the best amplifier for the job: 'I have never had so much headroom on a PA,' he adds.
All of the two-channel K Series amplifiers are fitted with Powersoft's proprietary AESOP (AES Ethernet Simple Open Protocol) networking capabilities. HAS Productions manages the racks, which each house four, six or eight channels of K Series amplification, using Powersoft's Armonía Pro Audio Suite software via the KAESOP Ethernet/AES3 interface in all monitor applications and for some KF740 set-ups.
HAS Productions' Powersoft amplifiers, including the newer K3s, are being used at the Rock of Vegas free concert series on the 1st Street Stage at the Fremont Street Experience. The series kicked off with Mötley Crüe singer Vince Neil and continues throughout the summer with bands such as Fuel, Hinder, Everclear, Three Days Grace, Third Eye Blind and Puddle of Mudd.
HAS Productions is an independently owned and operated full-service production company, offering audio and live sound production, lighting, power distribution, staging, backline and digital multitrack recording.
More: www.hasaudio.com
More: www.powersoft-audio.com