Audio rental house Studio Haifax is the first Belgium company to take delivery of a Coda Audio ViRay loudspeaker system.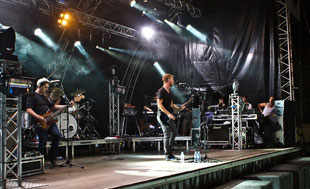 The investment follows Belgium rock band Zornik's Less > More theatre tour – for which Studio Haifax supplied a Coda Airline LA8 system – that moved the company up the Belgian live entertainment scene ladder and brought work with other well-known bands.
'A lot of festivals came our way too, so we needed a system that could handle anything from a 200-seat theatre to a 10,000 capacity audience,' says Studio Haifax Audio/System and Studio Engineer, Yves Van Moerbeke. 'With the ViRay system, we can handle everything in between too.
'As you would expect, the main reason we invested in this array is because of the way it sounds. And, because of its relatively small size, low weight, and extremely well built rigging system, it's easy to work with, and that gives us more time to enjoy the show ourselves.'
Established more than ten years ago, Studio Haifax has enjoyed rapid growth over the past few years. 'This has everything to do with the professionalism that every single one of Haifax's technicians brings to the job every single day,' says Van Moerbeke. 'But with good intentions only, you don't perform a single show.'
Purchased from Coda's Belgium distributor Apex Audio, Studio Haifax took delivery of the ViRay system at the end of June, not long after placing the order with Apex and right before a busy festival summer. Since its arrival, the team has used it on a variety of shows, from small live bands playing indoor terraces, to rock bands playing large outdoor stages.
'So far, we've only used it in the passive configuration,' Van Moerbeke says. 'There are two main reasons for this – it saves on amps and, even when passively crossed, these cabinets have more than enough headroom to keep up with the SCV-F and SCP subwoofers. We've flown it in several configurations, stacked it, even beyond the specified limits, every single time searching for the actual limits, which we have yet to discover. And if we ever get there, we'll switch to bi-amped mode, and start discovering all over again.
'During the first weekend that we used the ViRay system, some of Belgium's finest engineers were more than happy with the set-up. Some of them have never been known to compliment anyone, but this time they couldn't do otherwise. Everywhere we go with this set-up, we feel like everyone is excited by it. Coda has made a name for itself in Belgium over the past year; every technician has heard about it and would love to play a show on it. I don't think that anyone would say no to Coda in Belgium now.'