Apex Audio has appointed new distributors for its Asia operations, bringing its worldwide network to 34 countries.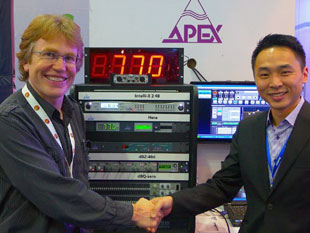 New Delhi-based White Eagle International (India), provides a full consultancy, installation and maintenance service for installation projects ranging bars and clubs to cinemas, shopping malls and stadia. The company is well-placed to promote Apex in the rapidly expanding Indian market.
'I have been aware of the growing reputation of Apex in the region and was really impressed with the products on offer, especially the Intelli-Series of system processors,' says White Eagles's Arun Kalra. 'We already have some major projects in the pipeline such as the Pangaea, Playboy clubs and the Hard Rock Café, and I'm looking forward to working with Apex to develop the market further over the long term, alongside Outline, which they work exceptionally well with.'
Now representing Apex in Singapore, Indonesia and Malaysia, Electronics & Engineering (E&E) is one of the region's leading suppliers to the professional audio, lighting and video industries.
'For more than 60 years, E&E has been a key player in many of the region's highest profile projects, carefully choosing brands which complement its stature in the region,' says the company's Gary Goh. 'With Apex Audio processors and noise control systems delivering exceptional quality sound and flexibility, the two companies are an excellent fit.'
'Our profile in the Asia-Pacific region has been developing well and we knew that we needed to expand, working with like-minded distribution partners in Southern and Southeast Asia,' says Apex International Sales & Marketing Representative, Craig Lovell. 'Working with E&E and White Eagle Entertainment will greatly enhance our reach there in the live sound and fixed installation markets. I have known both companies for many years and have a lot of respect for them. We are looking forward to developing a strong and long-term relationship with them both.'
More: www.soundlight.in
More: www.enepl.com.sg
More: www.apex-audio.eu