The UK's largest independent TV facility recently completed an upgrade to its Studio 2, bringing its operations to HD and adding a new digital mixing console and a large amount of HD cabling and gallery monitoring.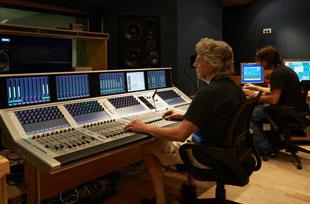 A key aspect to the upgrade of Maidstone Studios was the audio – and with under three weeks to complete the full refurbishment, seamless operation was essential. The chosen console was a Studer Vista 5.
'Having a Studer Vista 8 installed in Studio 1 for some years, it made sense to provide commonality of operation across both studios – so the Vista 5 was a logical choice,' says Maidstone Studios CEO, Rowland Kinch. 'We've been very happy with Studer and the support they give. We love the Vista's instant snapshot functions and it's a great live production platform. The consoles also share hardware and cards, so support is made much easier for us.'
Kinch also praises the new VistaMix automatic microphone mixing software update for the Vista console, which has been particularly useful to the sound teams on unscripted panel and game shows such as Victory TV's Draw It and ITV's Take Me Out:'The Sound Supervisors love having this inbuilt facility at their fingertips, and think it's fantastic,' Kinch says.
'Having the Vista consoles has really enhanced our opportunities and abilities to win programme productions from major broadcast organisations who are familiar with the Studer platforms,' he adds.