Completed in late 2012, Austin's Circuit of the Americas (COTA) is the first purpose-built Formula One circuit in the US, and includes main grandstand with VIP Lounge, a Grand Plaza with food court and shops, a 25-ft (77m) Observation Tower and pit building with an adjacent media centre.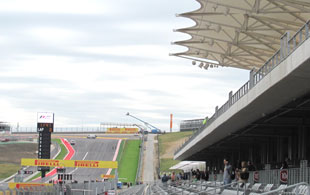 A/V systems play major roles in its operation. While architect Tilke's Formula One designs include race control systems and basic audio and video systems, COTS chose to upgrade and/or supplement the A/V systems in many areas. For this, Acoustic Dimensions was called in to provide networks, and audio and video system upgrades. Acoustic Dimensions engineered the low-voltage systems and, with Hughes Associates, ensured that they complied with the mass notification code. AT&T, the overall campus technology contractor, chose Ford AV for A/V systems design and installation.
The original audio specification included paging horns for race audio and public announcements. To meet COTA's request for A/V upgrades, Acoustic Dimensions and Ford A/V set-up a loudspeaker performance evaluation for circuit's management. Conventional paging horns were used as a baseline and two upgraded systems were offered for comparison. As a result, Community Professional's R-Series loudspeakers were chosen for their overall performance and sound quality, their reputation for long-term outdoor durability and their high sensitivity (efficiency), which reduced amplifier requirements and helped COTA meet its budget guidelines.
Community R2s, R.5HPs and Wet Series loudspeakers have been used in the main grandstand, on the track and in other outdoor areas. Community Distributed Design Series ceiling and surface-mount loudspeakers are also used in the grandstand, as well as the Grandstand VIP Lounge and the pit building. Community Veris2 loudspeakers are used in the media centre with the video systems. Audio electronics include Crown amplifiers, BSS London DSPs and Soundcraft digital mixing consoles.
'Circuit of the Americas is very pleased with the choice of Community loudspeakers for these systems,' Acoustic Dimension's Craig Janssen reports.