Revelling in the chic status now enjoyed by geeks of all kinds, Comic-Con 2013 drew more than 100,000 visitors to the San Diego Convention Center, to see and hear hundreds of celebrity guests discussing their latest movie roles and ideas surrounding the comic universe. Among them, Peter Dinklage, Patrick Stewart, Hugh Jackman, Jada Pinkett Smith, Tom Cruise and Harrison Ford fielded questions from the audience through AKG D5 microphones.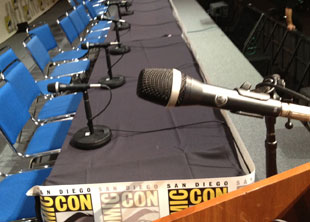 Comic-Con panels range from upfront, star-studded talks and how-to video game tutorials, to histories of characters and story lines and Q&A sessions. With such a massive following and demand for seats in the auditoriums, the clarity of the microphones and audio signal were a major priority among the event organisers.
'We understand the importance of the Comic-Con convention, where the support of the fans and other participants help make this international event such a success, so it was important to support the convention speakers with reliable and high quality sound,' says Ken Freeman, Senior Manager, Harman Business Development Senior Manager for Installed Sound, who was onsite to assist with the set-up. 'The D5s performed as expected, and allowed each fan to take in valuable information without missing a word.'
The systems were provided by San Diego-based MSI Production Services, and deployed by audio designer Rob Wisley and Eric Stahlhammer.