High-end equipment supplier KMR Audio has extended its operation from the UK to Germany.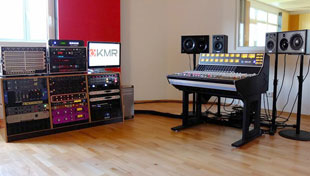 Now open for business in Berlin, KMR Audio Germany operates a purpose-built professional recording studio as its showroom, offering a demonstration facility that allows customers to focus on their individual needs.
'Being a producer/engineer myself, I always found it difficult to really test the equipment I was interested in before investing in it,' says Andrew Myburgh, co-owner KMR Audio Germany. 'I found that in traditional stores I could never hear the quality of a piece of gear as the listening environment was never controlled.'
Claiming it to be one of the finest demonstration facilities in Berlin, KMR Germany has an API 1608 console in a functioning control room with a good-sized live room for real-world demonstrations of any equipment customers may wish to try. As well as being the exclusive German supplier for Endless Analog's Clasp system, Coleman Audio, Buzz Audio, ShinyBox, Standard Audio, Overstayer, Steve Philips Acoustics, Serpent Audio and AwTac, KMR cam supply 'all the usual names', from API to SSL.
'Having built several studios from scratch, I am happy to discuss anything from full ground-up studio builds to small cabling needs, software and hardware,' Myburgh says. 'I've personally tested and used almost all the major brands we offer and, whether you're a DJ, mixing/recording engineer or producer, I will quickly be able to recommend the best solution for your personal needs.'
More: www.kmraudio.de