Toby Keith's Oklahoma Twister Relief Concert saw TNDV's new new audio truck Vibration in action for audio multitracking and music mixing. Held at the University of Oklahoma's Gaylord Family-Oklahoma Memorial Stadium, the festical featured non-stop performances from a line-up that included Toby Keith, Garth Brooks, Trisha Yearwood, Willie Nelson, Carrie Underwood, Sammy Hagar, Ronnie Dunn and Mel Tillis.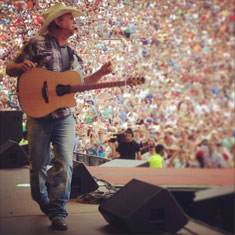 The event was staged to supprt victims of the May 2013 tornadoes that struck in Moore, Oklahoma.
'This was also the first project of significance for Vibration, and it performed exceptionally well under very demanding circumstances,' says TNDV owner, Nic Dugger. 'Since the eight-hour concert came together in a relatively short time, our crew had to make swift creative and technical decisions and respond on-the-fly as the fast-paced production unfolded.'
Along with Dugger, who served as on-site technical manager, the TNDV crew comprised Adam Ellis engineer-in-charge of Vibration, and Mills Logan, a freelance audio mixer and recording engineer who has worked closely with Toby Keith on all his records and two movie soundtracks since 2005. The crew devoted four days, including set-up and show days, to support their High Five Entertainment clients. Representing High Five on-site were Executive Producers Edie Lynn Hoback and Martin Fischer; and Production Coordinators Ashlee Locke and Catherine Melvin.
High Five Entertainment captured the performances and excitement of the day – culminating in a spectacular fireworks display – in HD video and surround sound for postproduction. Considered one of the largest music concerts in Oklahoma history, High Five documented the event in anticipation of a network TV special and/or DVD distribution deal, to be determined.
Designed for audio mixing and recording of broadcast television and digital film productions, Vibration is a 53-ft semi-trailer that houses a Studer Vista 9 digital audio suite, machine room, and comfortable client lounge with custom furnishings and hardwood floors.
While the truck can handle over 256 inputs simultaneously, the concert required mixing 128 inputs delivered via single fibre-optic link that ran 1,000 feet from stage to truck. Using the video production's video and time code reference, audio signals were recorded onto Vibration's Pro Tools recorders, with back-up recordings on four JoeCo BBR64-Madi recorders. Ellis and Logan also positioned ten Audio-Technica mics around the stadium – including six shotguns directed towards the upper decks and four condenser mics at the front of the stage – to pick up ambient/crowd sounds to add greater dimension to the audio mix.
While mixing all the sound sources on the truck's Vista 9 console, Logan watched the 1080i HD video programme mix – produced by the University of Oklahoma's in-house production centre using 13 manned HD cameras – as well as Pro Tools Mix Window displays on the truck's four large Samsung multiviewers. 'The Vista 9 console and Pro Tools recorders was a flawless combination,' said Logan, whose first hands-on experience with the console and truck was on set-up day.
'There was no time to do sound checks and there were only 20 minute breaks between performances. But the audio mixing and recording went very smoothly because the console was very intuitive, with lots of ergonomic, timesaving features, like the ability to pre-configure the board and instantly reset or recall memorised settings,' Logan says.
'Vibration was designed to put freelancers at ease, even if they've never worked on a Studer Vista 9 before,' says Ellis, who played a significant role in building the truck. 'Having a simple, streamlined workflow is everything, especially during a live event. The faster audio mixers get acclimated to the workflow, the sooner they can focus on being creative. And that's what really matters.'
See also: