Originally targetting club nights and small to mid-scale events and concerts throughout Lebanon, Loud N Clear has expanded massively since its inception in 1985. Today, Roger Bou Farhat company serves the largest venues across the entire Middle East.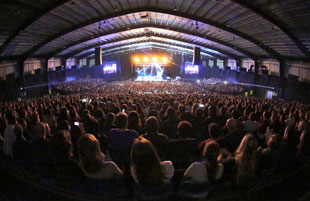 After setting up Loud N Clear, Bou Farhat experimented with different PA systems before settling on Martin Audio. Starting out with EM75 and W3, today he is supplied with the lates Martin concert systems from the manufacturer's local distributors, VTI and Technosound, often showcasing the product at concerts and fixed installations such as the The One nightclub in Beirut and Abu Dhabi.
It was as a club DJ that he first encountered Martin Audio: 'I preferred it over all sound systems in the market due to its loud and clear performance,' he says. He arrived on the big stage when Clair Global contracted the company to reinforce Sting and Guns N' Roses – 'since we are one of the few companies in the area with the ability to fulfill the requirement for a high-quality sound system'.
'The step up to the W8L Longbow he admits was a major one. 'Prior to adding these to our stock we used to rent Martin Audio W8s to ensure a good quality on large events – and we were surprised at the improvement in quality when we first used them.
'The first time I heard a Longbow system was at Bahrain Formula 1 – back when we had intended to invest further in a W8. This convinced me I should invest in Longbow instead as it gave me the feeling of a nightclub sound – even though it was an open air event.'
As a result, he can reflect on a work roster that today includes Shakira and the Red Hot Chilli Peppers at the 28,000 capacity open-air Beirut Waterfront, Sting and Armin van Buuren at the 15,000 BIEL (Beirut International Exhibition & Leisure Center) and Bryan Adams and Guns N' Roses at the similarly-sized Forum de Beyrouth.
The acts he has serviced with Martin Audio systems to date include Pussycat dolls, Gorillaz, Bryan Adams, Snow Patrol, Guns N' Roses, Sting, Red Hot Chilli Peppers and Shakira – plus leading DJs Armin Van Buuren, Carl Cox, Paul Van Dyk, Tiesto and David Guetta.
More: www.martin-audio.com