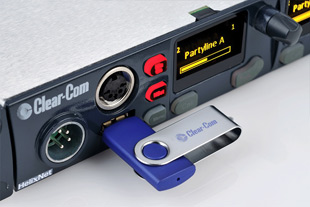 One of the first UK fixed installations for Clear-Com's advanced networked partyline intercom system, a HelixNet system has been installed at the Royal Albert Hall.
As sole UK distributor for the Clear-Com range of communications systems, theatre, event and entertainment specialist Orbital Sound took care of the system design and installaion for the Grade 1 listed building.
'Our challenge was to find a way of upgrading what was essentially a very out-of-date system within a competitive budget,' Orbital Sound Sales Director, Tom Byrne, explains. 'The old wiring was up to 30 years old in places, complete with enough buzzes and hums to make the communications virtually unintelligible. It was clearly not an option to rip out the wiring infrastructure and replace it, so we came up with a different approach that has saved literally thousands of pounds.
'Clear-Com's HelixNet represents the ideal solution, providing the RAH with digital a four-channel comms system that runs on single 3-pin XLR cables without any compromise on quality. The venue now has crystal clear sound on all channels, with the system configured around a HelixNet Base station together with 15 belt packs, and appropriate interface cards.
'We also supplied a TW47 walkie-talkie interface, which integrates the venue's existing Motorola units to HelixNet, enabling full communications between the two systems. This is a great example of how HelixNet can be deployed to use existing or low-budget wiring infrastructure to create a large-scale communications network simply and rapidly.'
More: www.orbitalsound.com
More: www.clearcom.com