Counting the likes of Alexander McQueen Men's autumn/winter and Moschino's spring/summer CheapAndChic 2013 runway shows, and Microsoft's IE9 web film premiere among its recent events, London's Farmiloe Building shares the limelingt of both fashion and hi-tech events as well as providing the setting for film/TV/commercials location, stills shoots and pop-ups.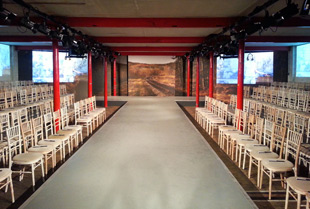 A recent fashion event put London-based RSH Audio into the spotlight, when it supplied a Funktion-One sound system. Answering a brief from Aztec Event Services, RSH supplied equipment from its recently bolstered stock of black Funktion-One speakers.
'The brief from my client, Liam Bremer at Aztec, was to supply a high quality audio system, but a clean look was essential to match the stage and set,' RSH Director, Joe Haycocks, explains. 'By using our Resolution 4 mid-highs over F221 bass units, we were able to tailor the sound on the XTA processor to suit the fact that the system was placed behind the actual fabric of the set.
'This flexibility – without resorting to harsh equalisation –is one of the brilliant things about Funktion-One's systems,' he continues. 'We have made use of this for a number of events where high impact, yet invisible audio is desired, such as cinemas, and other branded sets and stages. And we've always had a brilliant result.'
An identical system was used for the Farmiloe Building's downstairs bar area, where black scrims over the Res 4s for a similarly discreet look.
'For me, RSH Audio is more than an equipment supplier,' says Aztec's Liam Bremer. 'The quality of service, flexible approach and attention to detail make working with them very easy, and needless to say the sound is second to none.'
RSH has enjoyed a busy summer supplying sound to a mixture of corporate events, to parties for promoters like London Warehouse Events, and to festivals including LeeFest. Haycocks says that RSH enjoys being part of the Funktion-One family of companies: 'I've had the benefit of the rental network for a while now, and regularly work with other companies when I need extra kit, but it's great to be officially on the rental users list.'
More: www.rshaudio.co.uk
More: www.aztecuk.com
more: www.funktion-one.com