Along with its lawns, courtyards, fountains and plazas, Grand Park offers a year-round programme of music and entertainment to Los Angeles County. One of the world's largest premier arts destinations, performances are held in a number of multi-use stages, spaces and lawns, thanks to a system of 'media hydrants' and a Soundcraft Vi1 digital live sound console that can be quickly moved to any location.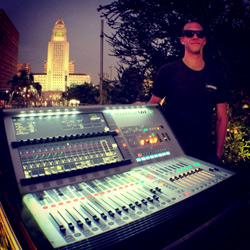 Grand Park' Event Manager Matt Saltzman explains that the entire park is wired with fibre-optic cable, buried underground and running betwee the media hydrants that located throughout the park and linked to the main control room. These hydrants provide digital audio and video connections via a Riedel light-pipe data network and are terminated with Cat 5e for audio, video and control. Embedded in concrete, the connectors face outward horizontally for durability and waterproofing. The units are locked with a steel gate when not in use.
'In planning the A/V system for Grand Park, the County wanted to ensure live music and entertainment would be accessible in the widest variety of areas throughout the park,' Saltzman says. 'They devised the underground fire-optic system to enable us to do this, rather than have to restrict performances to the stage area. However, to make this idea work we needed to be able to move the mixing console to each area. The Soundcraft Vi1's digital connectivity enables us to do that.'
With its compact footprint, the Vi1 is relatively easy to move from place to place and connect the Vi1 to the audio system using a Soundcraft Compact Stagebox. The Vi1 connects to the stagebox using a single Cat5e cable, and its output is plugged into a media hydrant via Cat5e. Saltzman notes that this arrangement eliminates the need for anywhere from 15 to 30 XLR cables. In some instances, he doesn't even have to move the board – he or one of his staff will use an iPad to control front of house mixing from a remote location.
The Vi1's built-in processing, reverb, compression and EQ and eliminate the need for outboard effects racks, further adding to the mobility of the set-up. 'All we need at front of house is literally a single power strip,' Saltzman says.
He points out that the Soundcraft Vi1's control and flexibility make it equally comfortable for house staff and visiting sound engineers to use. 'It can be set up to feel like a traditional analogue console, or you can use its processing and flexibility to take advantage of all of its digital features, like assigning input groups and saving cues on the console's cue/snapshot system.'
In fact, Saltzman discovered an unforeseen advantage of the Vi1 minutes before one particular performance: 'Ten minutes before show time I accidentally pulled the AC power to the console at the end of soundcheck – without bothering to save my settings. Luckily for me, the Vi1 had backed everything up and recalled all my settings. The show went off without a hitch.'