Martin Audio's Multi-cellular Loudspeaker Array (MLA) enclosures are the latest additions to the inventory at Capital Sound, when the production company was booked for two majot London events recently – a Wembley Stadium appearance for The Killers and the Barclaycard British Summer Time Festival at Hyde Park.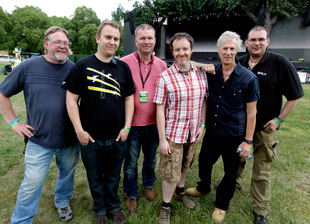 Their largest ever one-off concert at Wembley Stadium, The Killers Battle Born tour put FOH engineer James Gebhard in the driving seat of a particulaly large MLA system – the scalable PA rig was extended from a typical 14 elements a side to hangs of 20 MLA enclosures plus a single MLD Downfill at each side of the stage. This was supported by three delay hangs each containing a further 12 MLA enclosures along with side fills for a stadium crowd of around 78,000 people.
'This was marginally bigger than Mexico City and the largest headline gig outside a festival situation that the band has ever performed,' Gebhard says.
'Capital knew I had wanted to use MLA for this tour, and that I wanted the best provider of that system, so they took the decision to buy MLA – which was a huge financial commitment on their part. At Wembley the guys again did a fantastic job – and I couldn't have asked for better crew.'
'During The Killers' tour we have been able to prove the scientific claim that an MLA system is capable of covering a 60,000 stadium comfortably without delays,' Capital Sound General Manager Paul Timmins adds.
Following Wembley, the logistical challenges facing Timmins, Account Manager Martin Connolly and Technical Manager Ian Colville escalated for Hyde Park, where the system was chosen to help mitigate the historic sound threshold and control problems associated with concerts taking place there.
'Wembley had been our largest deployment of MLA until Hyde Park came along, Timmins says. 'Since there was less than a fortnight between The Killers show and Bon Jovi opening the Festival a lot of careful planning was required.'
Once the system was installed and sound measurements taken the production company was able to increase the infield sound levels by as much as 6dB(A) within the concert area while still comfortably maintaining the offsite sound below the 75dB(A) level stipulated thanks to the cellular controllability of the groundbreaking PA system.
On an aggregated basis, the consecutive use of around 330 MLA elements for these two events was comfortably Martin Audio's largest ever seen in the capital.
Timmins says that the task of deploying around 150 enclosures from the MLA family to cover the Wembley gig and as many as 180 for Hyde Park was a challene: 'The additional purchase of MLA had always been in the planning – it was just a question of timing as to when we took delivery,' he says. 'The confirmation of Hyde Park made that decision for us and we now have sufficient cabinets and infrastructure to be able to field two large systems.'
'It has been an amazing few weeks for the company and we are indebted to Capital Sound for their support and inspired way in which they have packaged and optimised our systems in the face of these extreme challenges,' says Martin Audio MD, Anthony Taylor. 'We are thrilled both to have supported the Killers' largest ever gig with our MLA technology and then to overcome the challenging sound issues at Hyde Park concerts, with opening concerts by Bon Jovi and The Rolling Stones.'
More: www.martin-audio.com