Making its debut in Latin America, Meyer Sound Leo linear large-scale reinforcement system was put into service at the recent Vive Movistar Festival in Caracas.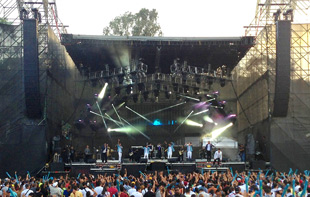 The system has recently been added to the inventory of event production company PROmontaje: 'We have been using Meyer Sound Milo and Mica line arrays with great success,' says PROmontaje MD, Pablo Bonilla. 'Now, with Leo, we will be Venezuela's leading provider of large-scale audio production for big concerts, festivals, major sporting competitions and large-scale corporate, governmental, and cultural events.'
PROmontaje's Leo system comprises 30 Leo-M line array loudspeakers, 18 1100-LFC low-frequency control elements, a Galileo Callisto loudspeaker management system with four Galileo Callisto array processors and a Galileo 616 AES processor. The system was purchased through the Caracas-based distributor, Audio Concept.
PROmontaje's investment is part of a long-term commitment to raising the standard for audio in live events throughout Venezuela: 'It's about quality,' Bonilla explains. 'When I've gone to concerts in the past, I would too often pay a high ticket price and hear low-quality sound. That's because concert producers were only looking for the lowest-cost system. I'm determined to change that attitude with Leo, and I'm convinced the quality will be a good long-term investment both for us and the concert producers.'
The Vive Movistar Festival suggests that Bonilla is on the right track: 'My musician friend told me that even as he was entering the venue around 300m from the main stage, the music was coming through strong and clear,' he says. 'Crew members with experience working other large systems also told me that they have never heard anything like it.'
PROmontaje is the event production technology arm of Grupo DEC, which provides a creative, management and production services for corporate events, large sporting events and major music concerts. Since its launch in 2001, the company has acquired staging, lighting, audio, and video equipment and, in 2011, PROmontaje was given its own identity as a supplier of production technology.
In addition to Leo, PROmontaje's Meyer Sound inventory includes Milo, Mica, and M'elodie line array loudspeakers; 700-HP, 600-HP, and 500-HP subwoofers; JM-1P arrayable loudspeakers; and UM-1P and MJF-212A stage monitors.