Newcastle-based R&B Group has taken delivery of an L-Acoustics Kiva system and Soundcraft Vi1 console.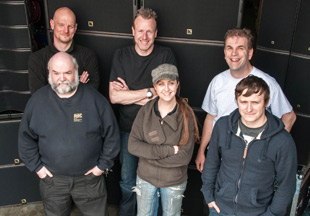 Central to an extensive audio upgrade, the UK live event specialist called on Adlib to assist in providing a turnkey solution to fit its work and budget.
Adlib duly brought in Azule Finance, who assisted R&B with the purchase: 'Azule were brilliant throughout the process,' says R&B Group Development Director, Antony Crerar. 'They understood the value in the investment, offered really competitive rates and totally appreciated how businesses like ours operate.'
The interest in L-Acoustics was initially sparked by another Newcastle company – Nitelites – who purchased an L-Acoustics system from Adlib two years ago. R&B had hired the system several times in the meantime, and really appreciated the sound quality.
They wanted a system that would handle voice and spoken word reproduction, as well as great sounding live music. Like Nitelites, R&B decided to consult Adlib and together they fine-tuned a system to meet their requirements.
Following preliminary discussions and demonstrations, Crerar was 'confident that Adlib completely understood our markets and needs from the off'. 'Kiva met all the required criteria in terms of adaptability at a realistic price, with a high output level for the size of the speaker,' adds Ian Nelson.
A total of 18 L-Acoustics Kiva two-way passive ultra compact WST enclosures were supplied together with six 8XT speakers, plus four SB15m subs and eight SB18 subs, flying frames and a stacking system, along with six LA8 amplifiers. At 13kg, a 'decent sized' Kiva array can be flown at under 100kg, which suits many of the venues in which R&B regularly work.
For mixing, versatility was to the fore. Adlib specified a Soundcraft Vi1 console and Vi stagebox to operate with the Neutrik OpticalCon fibre connection that R&B already uses for their projection systems – and designed a cable infrastructure that made the system both flexible and modular for a range of events.
Adlib additionally designed a custom amp rack, consisting of single and doubled-up LA8 units, which allows the system to be split into smaller components or used as one large system as required.
R&B's key crew received manufacturer led training on both L-Acoustics elements and the Soundcraft console at Adlib's training facility.
The finished system was delivered directly from Adlib (complete with custom Adlib flightcases standardised at a quarter truck width) to its first R&B gig in Sheffield as a ready-to-use system. From there it went straight to Newcastle, and was followed by a further four days of intensive onsite training.
'We are delighted with the results,' enthuses Crerar, adding that many of his clients have noticed the difference offered by the new system. 'It was a big investment to make, and sourcing it through Adlib was a fantastic experience at every stage of the process – right from the first contact through to all the after-sales service and support. It's been brilliant, and Adlib has really made the difference'.
R&B Group was established 22 years ago and specialises in high-end corporate and live events. Adlib has worked with the company for around five years, supplying sound equipment for some of their larger events.
More: www.adlibsolutions.co.uk
More: http://rbgroup.co.uk
More: www.l-acoustics.com
More: www.soundcraft.com