DiGiCo has produced an all new, responsive website, which adds a new dimension of accessibility for its customers.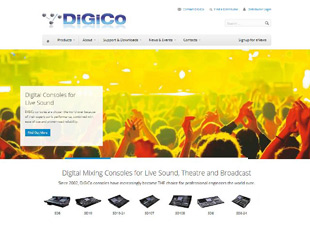 'We knew we needed to update our website, to add more functionality for our customers and distributors,' says DiGiCo Marketing Director, David Webster. 'While we were doing this, we also wanted to make sure that we had the most user-friendly platform possible, which means we've adopted a 'responsive' approach.
The result is a 'faster, slicker, more responsive and dynamic' website, that includes new PDF brochures for each of the company's products and solutions/options.
'By responsive, we mean that it knows what device you are using to connect to the site, so displays it appropriately for you to access what you need through that device,' Webster explains. 'The menu structure is no longer a drop-down list, but fully dynamic, allowing you to see pictures and links that are available without ever leaving the home page, so if you know the product you want it will take you straight to it.
'All the racks and options now are included in the menu structure. If you are new to DiGiCo and want to know more about the products, you click on the Products link and it allows you to show multi application consoles (All), Broadcast and Theatre.
'A brand new feature on this Product page is a compare console application. This allows you to do a side-by-side comparison of the main features of the product you are interested in. Additionally, D series, discontinued and legacy products have a link available at the bottom of the page
'On every product page there is a carousel of three images with the product's main features to the right. The product page has four tabs: Overview, Specifications (that are printer friendly and copyable to insert into tender documents and specs), Hi Rez Gallery (also for inclusion into tenders and documents) and Brochure (which is available to view interactively on line or for simple download).
'The pièce de résistance is that from the product page you can access the latest support downloads for the chosen product without the need to access the full support section.'
Dynamic menus are still available for the support and downloads section, which show the latest releases, and also allow direct access to the full list available. There is also a direct link to a totally new video section, allowing the selection of videos to view through the portal on DiGiCo's YouTube channel, as well as direct links to offline software, manuals and DXF drawings and the training section.
More: www.digico.biz