Paired with the new Clair iMicro small-format line array, Clair UK's Cadac CDC Four digital live console is making its debut on the Footstorm Irish dance tour.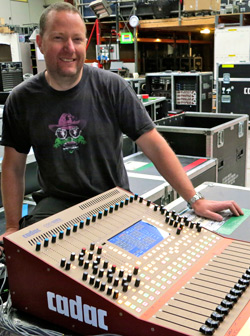 An original dance and music extravaganza presented by contemporary Irish dance company Prodijig, Footstorm opened at Dublin's Olympia, before touring across the UK. Playing in major regional theatres and concert venues including the Birmingham Symphony Hall, Footstorm required a compact console capable of the highest quality sound reproduction, to maximise the performance of the iMicro system.
'As a theatre production, the production team was familiar with Cadac and, in our previous incarnation as Concert Sound, we owned a couple of Cadac analogue desks,' explains Aron Ross, Clair UK General Manager, 'With that experience, we had no doubts about the likely sonic performance of the CDC Four, and in listening tests before the tour, it impressed us effortlessly. Its small footprint and sound quality made it perfect for the FOH position, requiring far fewer seat kills than any equivalent quality desk.
'People usually view Clair as a large scale rock'n'roll company, but we have extensive technical experience across all sectors of live production,' he continues. 'The iMicro is a very small format line-array. An 8-inch based, three-way system weighing 24kg (53lbs), for theatre-based productions of all types. We've been proving that night after night on Ian Anderson's ongoing Thick As A Brick tour, and the success of Footstorm has underlined this even further.'
'This was a great opportunity to put the new Cadac through its paces. Clair UK paired it with their stunning new compact line array system and a Mac-based playback system running QLab theatre cueing software,' FOH sound operator Tim Peeling says. 'I think Cadac has really got it right with this little console, its sonic quality is excellent with masses of headroom, and the EQ is also impressive – they've done a great job of modelling the sound of their big analogue consoles on the CDC Four. The feel of it is also really good; the build quality is solid and the faders very responsive.
'The little board really shone through Clair's new system. It was so easy to cover all seats cleanly and evenly with such a light and powerful system; small enough to get each cabinet exactly where it was needed without compromising any sight lines. And weight was never an issue, with the eight cabinet array coming in under 250kgs. The console and PA system was a great pairing and I am looking forward to using them together again very soon.'
After a month rest, Footstorm kicked off again with the CDC Four and iMicro array, with three nights at London's Sadler's Wells Peacock Theatre.