Leading the US into high-definition video and being the first company in the US to install a Studer console on a mobile truck, All Mobile Video (AMV) is an established early adopter of technology.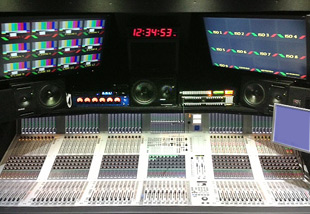 As one of the country's premier providers of end-to-end video and audio solutions for broadcast, entertainment, programming and events, AMV has sound stages and studios throughout Manhattan, and operated a fleet of mobile trucks nationwide. It most recent purchases are Studer Vista 9 and Vista 5 M3 digital mixing consoles for two of its trucks.
The Vista 9 is being installed in AMV's Revolution truck, a 53-ft double-expando trailer (formerly known as Resolution), while the Vista 5 M3 is going into a 50-ft broadcast truck called NYLA. The Vista 8 formerly used in Revolution is being moved to one of AMV's Manhattan sound stages.
Once fully refurbished with the latest video and audio gear, both trucks will be ready to handle any mobile broadcast situation – AMV has done production for the MTV Video Music Awards, the Metropolitan Opera's live-to-theatre broadcasts, the Macy's 4th of July Fireworks Spectacular, the Victoria's Secret Fashion Show and many other high-profile events.
'At the time [of the first Studer console being installed an a mobile], it was a big gamble and we were making a real statement to the industry about our confidence in the product,' says Ian Vysick, AMV Audio Development Specialist. 'From the minute we started using Vista consoles it quickly became clear that aside from their exceptional sound quality they offered outstanding ease of use.
'The Vista 9 and Vista 5 M3 make it easier to get people comfortable with technology in a short amount of time,' he says. For Vysick, 'it's always been about the Vistonics touchscreen,' which places key control elements up front and displays everything in real time. He finds the FaderGlow colour-coding to be invaluable as it allows AMV to configure all their broadcast and studio consoles with the same color-coding for the same functions.
'From a user standpoint, one of the most important attributes of the Vista consoles is that the controls are fast and responsive and don't overshoot – on some digital consoles there's a lag between the time you move a control and the time it responds, meaning that you're always going back and forth until you get to where you want things to be.'
He also likes the consoles' ability to momentarily gang select all inputs at once and make changes to all the selected channels instantly – a timesaver for AMV when configuring a console.
'The History mode is a huge advantage,' he adds. 'If a problem occurs for whatever reason, you can look at the meter bridge, identify the issue and resolve it without any guesswork required.'
In the unlikely event Vysick might lose a fader or a screen, he finds the Vista 9, 8 and 5 M3's repeating modular control layout – he calls it 'sections of ten' – and dual redundant computers operating in real time enable him to configure the console live and in real time. Studer's support is another factor in the equation.
'If something does go wrong and we can't fix it on site, we need to know a company has people we can get in touch with and parts in stock to ship,' Vysick says. 'When I call and say I'm going live tomorrow at five, I'm not kidding! Studer is always there to help and listen and take suggestions from people in the field. For me, keeping things running smoothly is as much about support as it is about hardware and software.'
More: www.allmobilevideo.com
More: www.studer.ch