With two concerts in Seoul using MLA) systems from rental company Boom Audio, South Korea is the latest territory to discover Martin Audio's pioneering technology.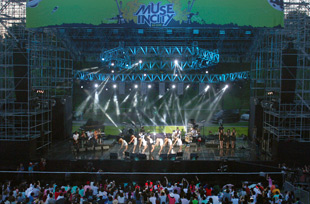 Supplied to Boom Audio by parent company, Rui Sound, the Multi-cellular Loudspeaker Array systems saw action in the 88 Olympic Park for the first Women Musicians' Music Festival (Muse In City) in front of an audience of around 12,000 people, and at Kwang Wha Moon Plaza for Korean singer Lee Seung-Chul.
Various genres of music featured at Muse In City, including Bossa Nova singer Lisa Ono, Australian singer Lenka, Lisa Hannigan and Korean K-pop star Lee Hyo-Ri. Rui Sound/Boom Audio provided 20 MLA and two MLD Downfills, split into two hangs, with ten MLX in a stacked sub configuration. The distance from stage to FOH position measured 30m, and to the back of the audience 100m, with the sound system providing even coverage throughout.
Four days after Muse In City, veteran Korean singer Lee Seung-Chul presented a showcase to promote his eleventh album, with around 5,000 fans turning out for the free concert – the first time an individual performer had staged such an event.
A repertoire of characteristic rock ballads and modern pop songs was performed through two hangs of seven MLA elements and an MLD Downfill enclosure each side, with eight MLX providing the low frequency extension in two stacks of four.
The purchase of the 36-element MLA system was strightforward, says Rui Sound CEO Kwak Ho-Jae: 'We decided immediately, and still strongly believe that MLA will remain at the top of preferred systems among existing line arrays in the Korean touring market, which is much more fashion-conscious and trendy than other sound markets.'
In September 2012, Rui Sound had installed its first MLA Compact in South Korea –a System 24 at the Lotte Card Art Center in Seoul – which attracted both local touring companies and theatre technicians. The company continues to provide exclusive technical support and advice to this venue. For touring, the company is promoting MLA for local concert tours 'as we felt this would have much greater power and influence than one-off demos,' says Kwak Ho-Jae.
'Above all, MLA's Multi-cellular principle enables us to control each drive independently and configure audience areas easily, irrespective of irregular shaped venues,' the Rui Sound CEO adds. 'In addition, the U-Net control system and the convenience of a powered system, simplifies the work of the sound engineer, leading to valuable time-saving at venues.
'Based on such experience with previous high value line arrays, we have now placed all our commitment behind MLA. We are ready to move forward with our strategy to build on the success on MLA/MLA Compact in the local market and continue to raise the whole brand image of Martin Audio – not only with MLA, but hopefully other systems as well.'
More: www.martin-audio.com