The current Elvis Costello and The Imposters UK and European tour sees UK technical solutions and rental specialist Adlib supplying a comprehensive package of lighting, sound, rigging equipment and crew.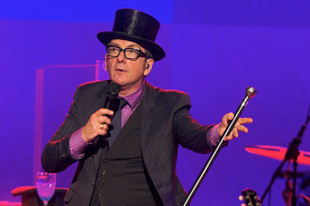 From the London punk and new wave scene of the 1970s, Costello has enjoyed a varied and successful career that brought him numerous awards and accolades. Popularly regarded as a great innovator as well and an incisive social commentator, this is the first time he has shought the support of the Liverpool-based production. Company.
The format of the show is that there's no formal set list. Songs are chosen – enough to fill nearly three hours of performance – largely by audience members invited up onstage to spin a giant wheel bearing different song titles. There is a pool of over 100 potential numbers in total. The randomness introduced by the wheel means that the team must be prepared for guests appearing at short notice – which has been very successful but keeps both musicians and technicians on their toes.
Alvarez specified an Avid Profile, his console of choice for around nine years, on which he is using all the onboard effects. It's a straightforward show – essentially an updated version of what would have been the 'classic' set-up in the heyday of punk.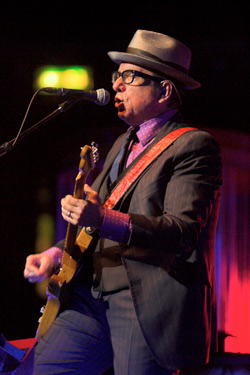 One of Adlib's JBL VerTec systems was chosen for the tour, owing to its ability to be easily groundstacked as well as flown. The itinerary of high-end theatre and concert hall venues includes three sold out nights at London's Royal Albert Hall, but not all of these venues offer full flying facilities. With Adlib's Steve 'Patto' Pattison and Pete Seddon as FOH and monitor engineers respectively, Costello's engineers Fernando 'Fern' Alvarez and Nathan Payne can concentrate on achieving the best possible results with the system each day.
The standard set up is 12 VerTec 4889 elements per-side with three or four VT4880A groundstacked subs. For the Albert Hall, 28 additional 4889 boxes were added to the rig taking the main hangs to 14 per side with additional side hangs of 11 each. The 4889s are being driven by Camco Vortex 6 amplifiers, which Adlib has found to be a winning combination. System processing and EQ is handled by four Lake LM26s. For the RAH, the side hangs were powered by new Crown ITech 4x3500HDs.
For front/lip fill, AA281s cover the closest seats, and for the corner spots of the room, there are three L-Acoustics ARCS boxes per side.
On stage, monitor world is overseen by Adlib's Pete Seddon, who ensures that Nathan Payne's days are as painless as possible. Payne uses a DiGiCo SD 10 console for the monitor mix, picked for its channel count. Costello plus his three band members are all on IEMs, using a Shure PSM1000 wireless system with Sennheiser 3732 hand-held mics and Shure Q5s for the guest vocalists. The move to in-ears is relatively recent, so there are still a few wedges (Adlib's low -profile MP4s) dotted around, for Elvis at strategic moments when he removes an ear and for guests onstage & even for the dancers in the go-go cage.
Payne records the monitors each night in case a virtual soundcheck is needed. The inputs from the SD10 go out via Madi to hard drive recorders, which are then played back via the console running in Madi mode, giving him access to everyone's mix – with the mics replaced by the recordings.
'Everyone is a joy to work with on this tour,' Seddon says.
'Working with someone of Elvis' stature is fantastic,' says Adlib Account Handler, Phil Stoker. 'Production Manager Milo Lewis, and engineers Fern and Nathan have been great to deal with all along the way.
More: www.adlibsolutions.co.uk