The seventh UK TV series of The Chase brought a series of technical innovations to the popular game show.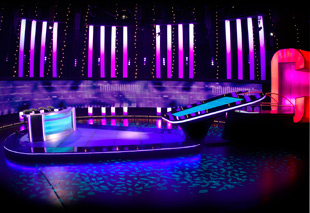 Along with a move from London Studios on the South Bank to Teddington Studios, sound supervisor Adrian Harding-Jones has introduced a Studer Vista 1 digital console with VistaMix automatic mic mixing, a Cedar DNS8 Live for mic noise suppression on individual microphones.
Harding-Jones' company, Audio Design Inspiration, has joined forces with Tony Revell Sound for the production: 'I was looking for an easy to use and intuitive desk that would easily fit into a tight control room without the need for a hard wired installation,' he says. 'Having all connectivity on the desk, along with the small footprint, made the Vista 1 an ideal solution.'
The integration of VistaMix in software v4.9 that the Vista 1 was running proved a bonus: 'The Chase studio has a large videowall and, as a result, fan noise is an issue,' Harding-Jones says. 'VistaMix has enabled me to clean up the mix dramatically.'
VistaMix was designed for unscripted multi-microphone live events, and game shows inherently suffer from both microphone spill and background noise. As active mics are successively added to the mix, so the overall sound quality deteriorates, leading to decreased intelligibility and phase distortion. Instead of needing to manually adjust all the faders each time, VistaMix automatically mimics the action of a human operator so that 'talking' mic gain can be increased at lightning speed while reducing gain for all others.
Adrian Harding-Jones was given a VistaMix demo at the recent BVE 2013 expo by Studer Director of Product Strategy, Andrew Hills. 'As a result of this I agreed to trial it – and was so impressed with the results, when offered the choice of which desk I could use for The Chase, the Vista 1 was my first choice,' he says.
VistaMix proved its worth, with access to the VistaMix settings and routing made extremely easy. 'It is highly intuitive and follows the Vistonics logic very well. In use, the speed it offered over manual fader adjustment was remarkable – no human could make that large a fader adjustment so quickly and with such accuracy.'
'It also allows a great reduction in the amount of background noise – a huge problem in studios these days – by effectively only having the mics of people talking open,' Harding-Jones confirms. 'It allows quicker than human reactions when recording unrehearsed and ad lib sequences when the sound supervisor will have no idea who's going to talk next. The overall result is a better listening experience for the viewer and potentially a reduction in post production time by lessening the need for edits requiring noise reduction.'
Already familiar with the Studer topography from the Vista 5 and Vista 8, Adrian Harding-Jones mixes eight radio mics, three stereo channels of music playback/grams and two channels of VT on The Chase. A further 15 channel sends to VT allow sample accurate timing of all elements being recorded.
The Vista 1 itself is configured with 32 analogue line ins, 32 analogue line outs (some assigned to monitoring), eight AES ins and outs and 64 channel optical Madi In and Out. Harding-Jones also specified a Studer D21 AES card to provide a further eight AES ins and outs. With three shows recorded each day, it endures a heavy duty cycle.
'The Chase keeps all dialogue firmly in the centre of the stereo image,' Harding-Jones says. He also the desk's ability to 'weight' the main presenter as another of VistaMix's main attributes. 'When everyone is talking, which often happens on lively panel shows, the weight control always allows the presenter to cut through the noise. I see this being a very useful tool in future and already have other projects I would be interested to start using VistaMix on.'
VistaMix is part of the new v4.9 Vista software, and is available as an upgrade for existing console owners.
More: www.studer.ch
More: www.cedaraudio.com