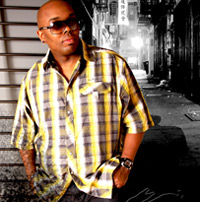 Being a long-time user of Pro Tools for tracking and Logic for composing and mixing, urban and pop producer Robert 'RAab' Stevenson was in need of a control surface to suit his working methods. He found it in the Smart AV DAW controller.
Also a professional vocal coach, arranger and talent himself RAab is the latest name to join the Tango camp: 'Having to use a mouse to click everywhere just wasn't happening, so the more I thought about it, the more I started looking for a control surface that would meet my needs,' he says. 'Tango provides that. I love the 22-inch touchscreen – using it with Logic makes my workflow so much faster and quicker. I also find that being able to control all my plug-ins with the rotary pots is a huge advantage. But the MonARC is the best part about it, I love sliding my finger across it and watching my faders follow; it's futuristic stuff.'
RAab has also recently developed an iPhone application called Voice Tutor, which helps his artists keep their vocal chords in good shape when he isn't around.
To date, his credits include a Justin Timberlake, Elton John, Snoop Dogg, Pink, Rihanna, Leona Lewis and 50 Cent. Presently working recently with a number of high-profile artists in readiness for 2011 tours and recording dates, the Tango will be kept busy for the foreseeable future.
More: www.kimadproductions.com
More: voicetutorapp.com
More: www.smartav.net