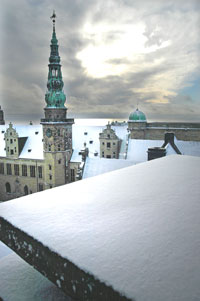 Best known as the setting for William Shakespeare's tragedy Hamlet, Denmark's Kronborg Castle has completed a major upgrade of its sound reinfocement facilities.
A range of low-profile, weather-protected loudspeakers is now installed throughout the fortress, allowing visitors to journey through its history, from the heavy battle conquests, power struggles, to its transformation into one of Europe's most forbidding prisons. 'We call the sounds at Kronborg Castle, Echoes of the Past,' says Exhibition Manager Jesper Gottlib Wik. 'The aim is to create sounds that appeal to our guests' imagination and encourage them to form their own interpretation of what they hear.'
The tour begins at the main entrance, where an LCR configuration of Meyer Spound UPM-1P loudspeakers plays prerecorded sound effects composed by Stephen Schwartz. Military music and sounds of marching soldiers and stonemasons at work involke imagery of past activities. As the trail leads visitors to the gunpowder house, two MM-4XP miniature loudspeakers and an MM-10XP subwoofer camouflaged in granite blocks depict everyday life. Finally a UPM-1P loudspeaker tells the story of the 1658 battle of Sweden, Denmark and Holland.
Sound quality, hostile weather conditions, aesthetics and coverage were all considerations that complicated system design for the audio supplier, Stouenborg. 'Denmark endures the extremes of seasonal weather, from snow, rain and wind, to very hot summers,' says Anders Jørgensen of Stouenborg. 'We were drawn to Meyer Sound knowing that their systems are installed on cruise ships. And if a system can sustain the rough conditions at sea, it's the system that we wanted for the Kronborg Castle. Some of the loudspeakers are hidden in granite enclosures to stay out of sight and to be protected from vandalism.
'When people hear the sound of soldiers giving command at Württembergs Ravelin next to the main entrance, they turn around to look for where the sound is coming from,' he adds.
According to project consultant Lars Holst, Kronborg is now planning to install sensors that can automatically regulate the volume of the prerecorded material based on the level of environmental background noise: 'There is quite a difference in the volume requirement between a quiet summer day and an autumn gale,' he observes.
More: www.meyersound.com