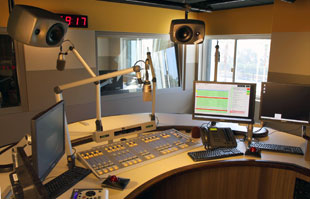 Part of a 'strategic consolidation' of its radio and television operation, Spanish-language broadcaster Univision, is relocating several of its California stations into a new facility in the Westchester neighborhood of Los Angeles. Here, 23 new radio studios will be equipped to live-stream broadcast content, and all will be equipped with Genelec 8040A and 8050A Bi-Amplified Loudspeaker Systems.
'This is a huge undertaking and it needed to have the right equipment at every level,' says Key Code Media Account Executive for Broadcast Sales, Tony Arratia.
Specialising in turnkey systems for entertainment, broadcast, corporate, educational and government production facilities, Key Code Media handled the design, consulting, engineering and integration of the new Univision facility.
'Key Code Media is proud to be a dealer for many leading manufacturers of broadcast technologies, and Univision had access to virtually any kind of monitor speaker solution available,' Arratia adds. 'When it came to monitors for all of these new radio studios, they chose Genelec.'
Commanding the largest Spanish-language television audience in the world, Univision opted for Genelec's 'sonic superiority,' knowing that its custom mounting systems would make the final installations unobtrusive.
'They did a sound test and the 8040A and 8050A speakers won hands down in that department,' Arratia says. 'But the Genelecs also had the look – they fit into the rooms seamlessly. When you're spending millions on a facility, you need more than just great performance, you need the equipment to look good, and Genelec had both of those bases covered – better than any other brand of monitor. Univision saw that Genelec monitors would also produce a return on investment faster than any other brand.'
The project is expected to be completed later in 2013.
More: www.genelec.com