Wise Buddah Studios has appointed a new dubbing mixer and is upgrading a second sound suite to 5.1 after seeing an increase in high-end TV audio postproduction work.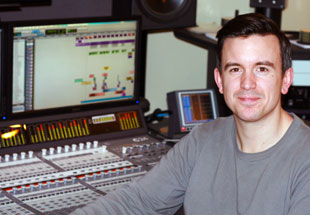 Former Pinewood Studios mixer James Doyle joins the Wise Buddah team as an overhaul of Studio 3 sees a new Avid C24 control surface and 5.1 monitoring joined by a dedicated Foley area, voiceover capabilities and improved acoustics. Managed by senior engineer Jon Last, the work signals the start of a 24-month process that will see the whole of Wise Buddah's central London facility upgraded.
'As well as adding more capacity for 5.1 mixing, the addition of a well specified Foley space will improve our capabilities for both TV and advertising clients,' says Wise Buddah MD, Dave Holt. 'At the same time, talent is a key ingredient of what we do so having James join the team, with his enthusiasm and experience, will significantly bolster our TV and film offering, helping us to take further advantage of the opportunities that we've been developing in recent years.'
As part of the studio upgrade, the control room in Studio 3 will be re-engineered with the existing Pro Control mixing surface replaced with an Avid C24. Monitors will be upgraded to Focal Solo 6be and from stereo to 5.1 making it suitable for HD work including Dolby E, as well as pre-mixing for cinema ads and feature films. A large voiceover and Foley area will be added to the live room, while a cosmetic makeover will improve the working environment for clients recording DVD commentaries and completing both face-to-face and ISDN interviews.
Doyle spent seven years at Pinewood Studios before joining Soho Square Studios and most recently Brown Bag Films in Dublin. He has worked on a number of feature films including Justin and the Knights of Valour as voice director and Disney/Pixar's Brave as original dialogue mixer, as well as two live action Ken Loach films, Route Irish and Looking for Eric.
The upgrade will be completed by the end of May 2013. James Doyle starts with immediate effect.