The Welsh Baglan Community Church has been equipped with a Roland M-300 Digital Live Mixing Console and two S-1608 Digital Snake Stage Boxes by Stage Electrics.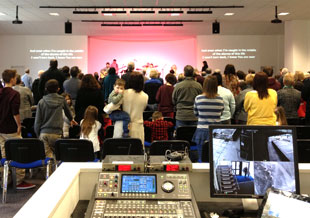 Part of a full audio, visual and lighting installation for its renovated multi-purpose venue in Port Talbot, the project took the building back to 'bare bones', allowing the audio installation to be designed using newly fitted Cat5e points. The venue is currently used primarily to host church services for the 220-plus church members, but once the renovation is complete, the intention is to hire out the building to the community to use as a conference centre or hall. The audio solution therefore needed to be digital with a flexible set-up to extend it use from a single mic to live bands.
With a background in professional theatre, church member Steve Dennis had a clear idea of the features he was looking for and having previously seen a demonstration of the Roland M-400 connected over Cat5e at the Torch Theatre, he was happy for Stage Electrics' Neal Tomlinson to specify a similar set-up, but using the smaller M-300. The M-300 is used in a front of house position in the large main hall with the S-1608's racked with the amplifiers in a room adjacent to the stage. The stage area also features hard patched XLRs so that visiting bands can patch easily into the existing set-up.
'The audio solution had to be digital and the ability to run over Cat5e was important as the building will have several different areas such as an auditorium upstairs, function rooms and a coffee shop' Dennis says. 'In future, we want to be able to move the equipment around and be fully functional in all rooms. The M-300 is a great solution for us, easy to use and easy to set-up with the Cat5e and the menus on the M-300 are really intuitive, which means that those using the desk rarely have any problems finding what they want. And if they do, I can talk them through it over the phone.'
As part of the V-Mixing System, the M-300 32-channel console connects easily with Cat5e to the Roland Digital Snake products for simple, high-quality audio transmission, distribution, splits and merging. Built in REAC (Roland Ethernet Audio Connection) connectivity provides the flexibility to use the Cat5e points around the venue to connect to the mixer via patch instead of having to use XLRs out of the mixer. The S-1608 Digital Snake System is a small format audio snake solution ideal for providing high quality audio signal without high frequency losses or the bulk of an analog snake.
'The M-300 is an ideal scalable solution for small to medium sized venues and is also lightweight and transportable,' says Neal Tomlinson. 'We have had a great deal of success specifying the M-300 for this type of venue and had some great feedback from customers who have really started to unlock the potential of this powerful little console.'
More: www.rolandsg.co.uk