The Music Production department of The Hull College group has installed several pairs of Eve Audio SC207 studio monitor loudspeakers for use in its two recording studios, two rehearsal rooms, six postproduction rooms and an audio suite incorporating 22 iMacs.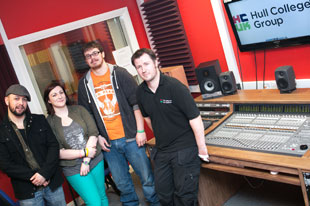 'When looking to replace our tired studio speakers,' says Senior Music Technician; Mark Hitchin. 'I was in contact with [Leeds-based equipment supplier] Production Room to demo various mid- to high-range monitors and, after trying several different pairs, they mentioned that they had just received some new Eve Audio SC207s. They were slightly more than our budget, but caught my attention when compared against other manufacturers' models.
The facility uses industry standard software, including Pro Tools, Logic, Cubase, Ableton, Reason and Sibelius. The recording studios are both equipped with Pro Tools HD, one being a specialised digital studio with 5.1 mixing, the other containing Pro Tools HD and a 24-track tape machine to ensure students have the opportunity to work with analogue techniques that are still used within the industry.
'The SC207 offers a fantastic feature with the DSP set-up being quick and easy, and then you can disable the controls to stop students from changing the set-up,' Hitchin continues. 'After a couple of months of use, all our staff and students are very pleased with the purchase.'
The Eve Audio monitors wer supplied to Production Room by UK dsitributor, Nova Distribution.
More: www.eve-audio.com
More: www.nova-distribution.co.uk