UK PA company APR Audio took on a large gospel event at London's Royal Festival Hall, with the help of two Allen & Heath iLive digital mixing systems and a total of 12 ME-1 personal mixers to manage the event's monitors.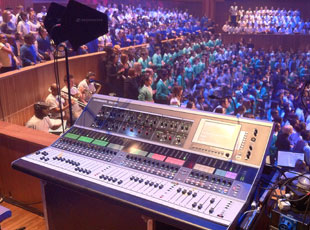 Called Sing Inspiration!, the two-day festival was organised by iGospel, offering 'an inspirational music project' providing vocal and music tutoring, songwriting, audio production and event management training. Aimed predominantly at children, the 2013 event featured a 500-strong mass choir and various other mass soul and gospel choirs from across the UK, Europe and US, all backed by the renowned igmusic band, with special guest appearances by Jaz Ellington (star of BBC's The Voice), Israel J Allen, and MOBO award winning gospel star, Rachel Kerr.
The Taunton-based PA rental company provided the audio system, selecting an iLive-144 system handling general monitor duty at side of stage, invluding as IEMs and wedge monitors, and 12 ME-1 mixers fed to a second iLive system, giving each musician their own monitor control on stage.
'The ME mixers were launched at Namm, and APR invested in 12 units as soon as production started so this event was the first time they were used in earnest,' ssays System Engineer, Rob Ritchie. 'ME-1 is easy to use, has excellent sonic quality, and is ideal for large and ambitious events like this, with so many musician and singers to manage. The band consists of some of the UK's best session musicians – these guys have played with everyone – so it was great to give them freedom with their own monitor controls. I can see how ME will be very successful in big HOW in America and Asia. Well done to A&H for getting this product to market.'
More: www.apraudio.com
More: www.allen-heath.com