The first college in Australia to have accredited courses in audio engineering, digital animation and digital television, JMC Academy has installed a Solid State Logic Duality Console.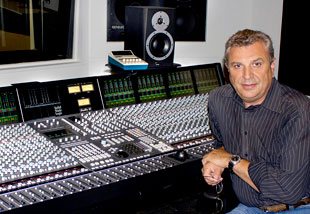 Used to provide analogue workflow/DAW control platform for its courses in in audio engineering, sound production, music performance, animation, game design, film and television production and entertainment business management.
'The new campus was purpose-built to satisfy the needs of our students both present and future, therefore a lot of thought went into the design of the studios, teaching spaces and the student areas,' says JMC Academy MD, Martin Cass. 'We also wanted to ensure that, as a leading educator in audio in Australia, this new campus was set up with the right equipment. SSL, being synonymous with the recording industry for so long, was the clear choice, not only based on reputation but also on performance and versatility.'
JMC Academy also has campus locations in Melbourne and Brisbane. The new campus is a multi-studio, 4,000sq-m space located in the heart of the creative precinct of Sydney, includes four recording studios, seven rehearsal rooms, a large film and television studio with green screen, two Midi labs, three animation and games labs and a film and TV edit suite, as well as an auditorium that seats more than 400. Duality is used in Studio 4 for the practical recording and mixing classes for the Bachelor of Creative Technology (Audio Engineering and Sound Production) students.
'In choosing the Duality, we wanted our students to have access to 21st century technology that is truly industry relevant,' Cass says. 'Duality is able to meet both the educational and industry needs of our students. The coursework on Duality is really the culmination of a student's degree programme. By having students work their way through a variety of studios and consoles, both analogue and digital, they become better engineers, allowing them to maximise both their own potential and that of the Duality by the time they graduate.
'The fact that both students and staff have access to the latest technology when working on the Duality is beneficial to all concerned,' he concludes. 'Through having the opportunity to access such an advanced console in the final stages of study sets our students up to be able to quickly adapt to the real world and any situation that may be thrown at them.'
More: www.jmcacademy.edu.au
More: www.solidstatelogic.com