Currently in the process of upgrading its studio facilities, Canada's Jazz.FM91 recently took delivery of four mising desks and a routing system from Lawo.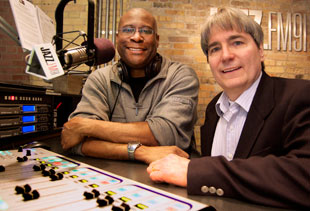 Playing an integral role in the selection, installation, and commissioning of all equipment to be installed as part of the facility upgrade, Technical Manager Murray Johnson is also responsible for overseeing all installation and maintenance of the production facilities, transmission distribution, and other aspects of the station's operations.
'As technology advances, it is periodically necessary to upgrade hardware that has become dated,' he explains. 'As we are a charitable arts organisation, it is imperative we invest in equipment that not only provides the capability we require, but that also delivers exceptional value. I believe our new Lawo equipment does just that. The four crystal consoles, which range in size from eight faders to 12, and our new Nova 17 router have a wealth of features that will enable us to provide exceptional programming to our listeners while ensuring state-of-the-art functionality for our staff and guests.
'What's so appealing about the Lawo equipment is the quality and its ability to be configured,' he continues. 'The brochure photos really don't do the consoles justice – up close and personal, the crystal control surfaces are robust, intuitive and infinitely configurable. Not all of our presenters are seasoned broadcasters – we have hosts who come from the trenches of the jazz music scene – so when it comes to getting in front of a piece of equipment to do a show, the gear can't be intimidating. The beauty of the crystal lies in the fact that these consoles are really easy to operate. And yet, if you pop open the hood, there's a lot of power in there that can be used to our advantage, without the talent needing to know how everything works.
'With the crystal consoles, it's not going to take a lot of training to get up and running,' he adds. 'We're planning to transition to the new gear over a weekend, so we're relying upon the straightforward design to make the transition very smooth. If the listeners notice a difference it will be because of the improved quality. I've worked with a lot of Lawo systems over the years and have consistently been impressed. We needed reliable equipment capable of providing a long service life that also offers the ability to grow and evolve. I'm confident our new Lawo systems provide all that and more, especially if we consider that Lawo is a developing partner in Ravenna – we'll have the ability to extend our system onto IP-based technology where it makes good sense to do so.'
The Nova 17 router is an important component of Jazz.FM91's upgrade: 'The cores for each of the consoles will be tied together via the Nova 17,' Johnson says. 'We'll have access to everything everywhere and, in the event there's a problem with one of the studios, it will be very easy to move production to one of the other rooms. With this arrangement, all the remote lines, satellite and news feeds – everything – can be accessed from anywhere. Any studio can substitute directly for any other. With the configurability of the crystal consoles and the Nova 17, we can set up functions that, with the press of a single button, execute a variety of actions – all while appearing seamless to the operator. Everyone at the station is eagerly looking forward to the first day when they are able to sit down in front of our new crystal consoles and make great radio.
'We are cost conscious with everything we do,' he closes. 'We examine our technology investments very carefully, with an eye to the future. While there are other less expensive solutions, we've chosen to install this equipment because we believe it's important, in terms of supporting our programs, that we have reliable equipment capable of providing a long service life. If you look at the value of the investment over the long term, we are confident that Lawo offers the best return on our investment. At the end of the day, it all boils down to this…to do great work, you need great tools.'
More: www.jazz.fm