Since adopting a DPA d:facto II Vocal Microphone, jazz singer Claire Martin says she has 'never heard so much clarity in her voice', and that the difference is so noticeable that all the sound engineers she works with are making positive comments.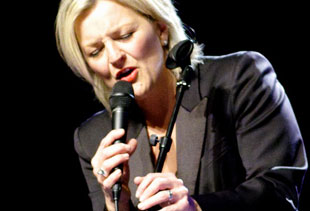 'This is definitely the right microphone for me,' she says. 'It picks up all the colours in my voice and I can hear every breath, which makes it easier to control phrasing. It almost makes singing easier as I can try out vocal idea's and actually hear myself changing the timbre of my sound – something I felt was lost with other microphones. It also delivers without me having to be right in too close to the mic, so I can definitely play around with lower end notes by coming in a little closer for a bassier response. This works really well in ballads, I feel.'
Having been singing professionally for more 25 years, won awards and rave reviews for her work, and released 16 albums on the Linn label, Martin counts the likes of Martin Taylor, John Martyn, Stephane Grappelli, Kenny Barron and Jim Mullen among her collaborators. In addition to her singing career, she is a co-presenter for Jazz Line Up on BBC Radio 3.
Her decision to try the d:facto Vocal Microphone was inspired by a sound engineer at the Pizza Express Jazz club in London's Soho: 'The engineer was raving about the mic and saying how it would suit my voice,' she explains. 'Other singers and also my record company Linn Records, had often talked about the quality of these microphones – so at last I was able to try one out in an intimate club setting. I was immediately impressed by its lightness and handling.
'Once I had worked out the direction handling, it made me feel very confident about my diction and tone. I also notice that I don't lose any level when I give my sound more power and pull away from the mic. The sound is still clear and full and more rounded. You can hear the whole breath and, as a jazz singer, this is the sound I'm after. This microphone certainly delivers what I want and I definitely feel I'm using the best microphone there is.'
The mic was supplied by DPA UK distributor Sound Network and is now used for all of her concerts: 'In jazz clubs, some PAs are better than others and this microphone gives me a fighting chance of getting a great sound,' she says. 'I also love how light it is.'
Martin is currently touring with Brighton-based cellists the Montpellier Cello Quartet, showcasing new arrangements for voice and cello quartet by Sir Richard Rodney Bennett, Mark Anthony Turnage and Djano Bates. She plans to return to the recording studio later this year to begin work on her 17th album.
More: www.dpamicrophones.com