A major renovation of the sports facilities at Eastern High School (Voorhees, New Jersey) has seen stadium sound system upgraded with Community R-Series, Wet Series and iBox loudspeakers.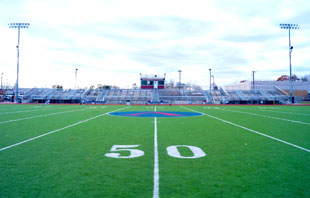 Previously equipped with four R-Series R2-474 loudspeakers on light poles – two at each end of the home team bleachers – JD Sound & Video refurbished these, added Polar Focus brackets and re-aimed the R2s for better coverage. JD then added a pair of Wet Series W2-218s on the press box to cover the home-team bleachers and delayed the original R2s to avoid echoes. JD also added an R2-52 on the press box, aimed to cover the visiting team bleachers.
For Eastern's pep rallies and special events, JD added a pair of weatherised Community iBox dual 15-inch i215 subwoofers. These were installed under the bleachers and provide low-frequency support for the entire field.
'The original system was better than most high school sound systems, but now the coverage is improved and the students love the subwoofers,' says Joe DiSabatino of JD Sound & Video. 'You can really feel the music.'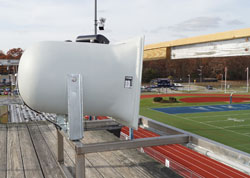 The system electronics are located in the press box and include a Rane mixer, Shure wireless microphone system and Crown amplifiers. JD installed a Community dSPEC DSP Loudspeaker Processor for equalisation, delay and loudspeaker optimisation. In addition, JD added an iPod/iPhone input at trackside with a microphone input, volume control and key switch. For practices or simple events, this setup allows coaches or students to operate the system without accessing the main controls in the press box.
'The new system makes it sound like my announcers went to articulation training,' says Phil Smart, Eastern's VP of Athletics. He reckons that the new sound system is not only better than many college stadium systems, but also that JD Sound & Video was able to aim the loudspeakers to cover the bleachers and field while limiting the spill into the adjacent neighborhoods. 'The sound is awesome – we're the envy of South Jersey.'
A regional district school with 2,100 students, the school's main stadium is a 2500-seat, multi-season venue used for football, field hockey and track and field events. Its refurbishment will conclude with the laying of artificial turf and a new track in time for June 2013 graduation ceremonies, gave
More: http://jdsoundandvideo.com
More: www.communitypro.com