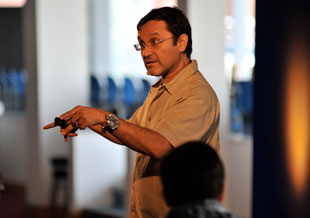 The latest in a series of UK educational seminars being co-hosted by Pro Audio Systems (PAS) and Meyer Sound was held recently in the Long Bar at Yorkshire County Cricket Club. Overlooking the hallowed turf of this famous venue, the event atttracted a record attendance of more than 50 delegates.
For the event, the PAS production crew put in a complete seminar infrastructure, including a rear-projection screen, a specially-constructed set, overhead lighting and a distributed audio system comprising six Meyer Sound MM4-XPs. The session covered the principles of polarity, phase and time-alignment for loudspeaker systems using Meyer Sound's Mapp Online and SIM programs.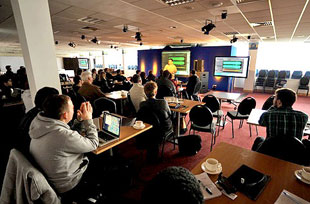 Meyer Sound's Mauricio 'Magu' Ramirez presented a System Design Principles seminar to a rapt audience, using his established style and humour, combined with his extraordinary knowledge, to discuss highly technical concepts while consistently retaining their relevance to real-world applications.
'These events are better-attended every time and as Meyer's partner in the north of England we are delighted to share their commitment to education,' says PAS MD, Brian Lumb. 'It's always such a pleasure to welcome any of Meyer's tutors and we will soon start planning our next Meyer Sound seminar – stay tuned.'
More: www.proaudiosystems.eu
More: www.meyersound.com