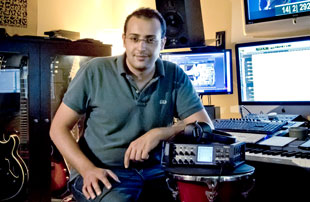 Operated by award-winning music composer and sound designer Khaled Hamdy, Dubai-based Khaled Hamdy Audio Productions has taken receipt of a Roland R-88 multitrack recorder.
Supplied by regional distributor Nicolas Kyvernitis Electronics Enterprises (NMK), the purchase was made following a demonstration by NMK Roland specialist, Moswain Antao.
The R-88 is intended for location sound recording, and includes an onboard mixer, time code support and slate tone/mic for memos. It can deliver a stereo mix or individual channel outputs for embedding into a SDI feed or for other purposes. It also features professional AES/EBU digital I/O. Beyond field applications the R-88 is suited to postproduction environments featuring a built-in 10-input/8-output USB audio interface for multichannel recording.
'The R-88 has eight channels of audio inputs and output, making it the perfect choice for surround-sound recording and film production,' says Moswain Antao, Roland Product Specialist at NMK. 'It surely is an ideal all-in-one tool for any audio engineer.'
More: www.nmkelectronics.com