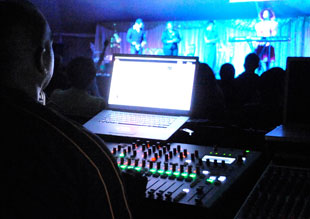 South Africa sound specialist, Howard Technologies has added a Soundcraft Si Compact 24 digital mixing desk to its inventory to meet its requirements in the corporate sound sector, and for church conferences.
Set up by Irvin Howard in 2000, the company specialises in staging and production. With a growing work roster of multi-act shows it needed a digital desk that was compatible with this type of presentation, and also expandable. 'Memorising each set was becoming a challenge,' Howard explains. 'Soundcraft have always made my favourite desks – they have strong preamps and are really clean sounding. In this instance, expandability was important, as was simplicity, portability and the ability to handle multi-track recording through Logic/Pro Tools.'
Experience of other desks had proved disappointing… 'Then I did a show with an Si Compact 32. I was really hesitant at first, but the guy who had set it up literally took ten minutes to explain the desk. It was a breeze. I knew then that I wanted a Soundcraft Si Compact.'
In addition to the functionality, and the Soundcraft name, Howard likes the console's FaderGlow [colour illumination ]. 'But the simplicity was the real hook, and the fact that there are buttons for every function is great.
'There is not a band that will complain about being mixed through a Soundcraft desk – and the name appears on most technical riders, he adds. 'This desk will now not leave my sight. Either myself or my technicians will always be present, even if we're not mixing the sound. We'll leave our other desks to handle the dry hire.'
Purchased from Bloemfontein-based Toms Music, Soundcraft consoles are distributed in South Africaby Wild & Marr, along with the full Harman Professional portfolio.
More: www.wildandmarr.co.za
More: www.soundcraft.com