Celebrating becoming the UK's inaugural City of Culture, Derry City Council called upon Belfast-based production company Wackiki to provide audio coverage across a 2.5km stretch along Londonderry's river edge.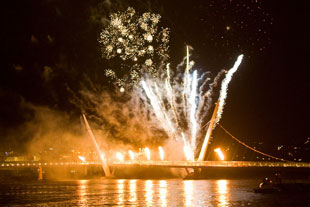 Celebrations were led by a pyrotechnic performance from Walk the Plank, one of the UK's leading event production companies. The firework display was launched the banks of the River Foyle, as well as from speedboats and the deck of the recently built Peace Bridge. Working closely with Walk the Plank's Melvyn Coote, Wackiki designed a system that could be controlled from the fixed mix position, and also wirelessly from any point along the system's stretch. Wackiki is the first Irish company to provide a system of this kind.
Starting from the recently re-imagined Ebrington concert site, L-Acoustics dV-Dosc speaker systems were located strategically each bank of the river and then along the quay, passing the city's council offices and beyond. The system was powered using Lab.gruppen's PLM Series of amplifiers, and controlled using their built-in Lake Controller software, via a proprietary wireless system. At the mix position, Wackiki provided a Yamaha M7CL equipped with an Audinate Dante Network card for networking. A time-code signal was sent from the M7CL, across the Peace Bridge, to the technicians from Walk the Plank, to synchronise the pyrotechnic and musical programmes.
Audio was routed through a fibre-optic infrastructure that covered the full reach of the PA system, with a back-up analogue signal sent wirelessly through an RF transmitter. Ally de Courcy from TMB UK provided a Proplex Ethernet switch system for each amplifier rack, which simultaneously allowed for both control of the Lake system and playback through the Dante Network. The system benefitted from the PLM series' ability to seamlessly switch from analogue and digital audio sources, for redundancy and the ability to control any point or combination of points in the system from any point via Lake Controller laptop.
Despite the Irish Winter weather and working across pedestrian and traffic zones in a busy city centre, Wackiki's combination of local and national crew and technicians delivered a faultless production.