Tieline and Netia have struck a strategic partnership that will see the integration of Report-IT Enterprise into Netia's software systems for managing and broadcasting radio content. The move promises customers of both Tieline and Netia improved workflows for ingest of news content and enhanced tools for mobile journalists in the field.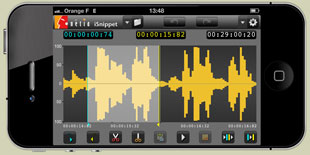 The two companies organisations worked together with amutual customer, ABC Australia, to integrate the ingest of recorded Report-IT audio files into Netia's Radio-Assist using FTP sharing. Tieline has also integrated iSnippet, Netia's latest Radio Assist editing tool, into Report-IT Enterprise for iPhone/IPad.
'Tieline's partnership with Netia makes it easier and faster for journalists to get their stories to air via Netia Radio Assist systems,' says Charlie Gawley, VP of Sales, APAC/EMEA for Tieline. 'Journalists now also have access to improved and streamlined report editing capabilities with the integration of Netia's iSnippet editing application into Report-IT Enterprise for iPhone and iPad. For engineers and all radio news stakeholders this will deliver improved workflows which reduce time, effort and costs.'
The range of editing tools available within Radio-Assist automation products is now available for iOS devices. Sharing the same look and ergonomic principles as the desktop interface, the new iPhone- and iPad-compatible iSnippet tool allows field reporters and other remote users to enjoy the Radio-Assist audio editing capabilities on portable devices.
'As the world moves towards the use of mobile devices, we are delighted to work with Tieline to deliver broadcast solutions on portable devices bringing a new level of flexibility for news operators working remotely,' says Netia President and CEO, Paul Henri Oltra.
The Report-IT Enterprise application for iPhone and iPad allows reporters and announcers to send live broadcast-quality IP audio wirelessly from any remote location to a Tieline IP codec in the studio. Report-IT can also broadcast live and record at the same time, so audio can be sent in real-time to a Tieline codec in the studio, or uploaded via FTP sharing to a news server with no codec required in the studio.'