With venues up to 10,000-seat arenas on the schedule, German electronic musician and actor, Paul Kalkbrenner has called on Complete Audio to provide the sound systems for his current European tour – Guten Tag.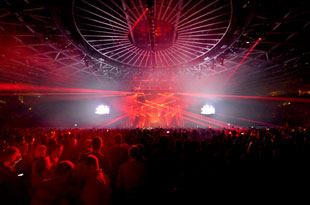 The tour takes in most European countries, and Berlin-based Complete Audio his opted to use its Martin Audio MLA system for the task. André Rauhut's company had previously introduced Martin Audio's Multi-cellular Loudspeaker Array system to the artist's production in 2011: 'We first used an MLA/MLX rig for a big outdoor show,' Rauhut recalls. 'They really loved how the system sounded, and as a result, they have since continued to work with us. MLA has become vital to the quality of the live sound.'
For this outing, a total of 26 MLA enclosures, two MLD down fills, 16 MLA Compacts and 18 MLX subs will provide a system that is scalable to suit the requirements of differing venues. The main hang generally ranges between nine and 13 MLA plus MLD, in LR configuration, with MLA Compacts flown as out fill where necessary – and other fill applied as needed.
Initially, Complete Audio experimented with the MLX sub configuration: 'We tried broadside – with and without cardioid layout – but after a couple of shows, we found the best set-up to be three MLX stacked on top of each other, outside on each flank, with the other MLX's arranged in stacks of two facing forward alongside the stage,' Rauhut explains. 'This broadside approach, accompanied by two "in your face" stacks on the outside, provides both even coverage and some real punch.'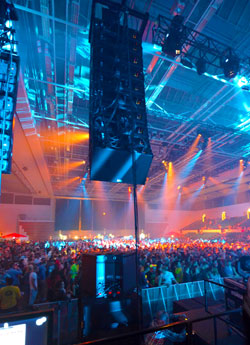 The subs are delayed from the centre outwards to achieve extra spread in the larger arenas.
'MLA is the only system I know of that can cover a large arena with almost no difference in sound or level throughout the entire venue,' Rauhut says. 'It ensures that those up in the bleachers can enjoy the same quality and level as the people close to the stage. And since we are talking electronic music, there is a need for extreme sub levels all the way down to 30-to-40Hz.
'I find the MLX the most powerfull sub in the market today – it can easily outperform any other competitor. And given its size, it´s really amazing what you get out of a single enclosure.'
Paul Kalkbrenner's FOH engineer and head of audio is Nils Uhthoff – a long-time MLA operator who started using the system back in the days when Martin Audio was still testing the pilot. He is supported by monitor engineer, Alexander Lewin, while other system techs are Janine Fidrich, Thomas Birnbaum and Julian Hoffman.
For the stage, a pair of Martin Audio LE1500 wedge monitors, in L/R stereo, have been deployed along with two WS218X subs, while the support DJ acts also have access to a pair of LE1500s and a WS218X.
One advantage the system engineers have enjoyed is Martin Audio's new Display 2.1 optimisation software. 'Speed is the main advantage,' Rauhut says. 'But considering its complexity, it is a really easy tool to work with. You can sketch out a large arena and come up with the entire splay and rigging angles in about 15-20 mins. I haven´t managed that with any other prediction software for generic line arrays.
'Display also generates all the filters for every cell in every single cabinet in use while the coverage has improved over the older software version – it has gotten smoother.'
Considering all these factors, Rauhut believes the performance of MLA has advanced considerably since Complete Audio first took the system out with Fettes Brot, in 2011.
More: www.martin-audio.com