The Script's '# 3' world tour is currently making its way around the UK and Ireland arena before moving on to Asia and Australia. For this leg, the Irish alt rockers FOH sound engineer Richard Nicholson has called on Adlib to supply an L-Acoustics K1 sound system – the same system used two years ago, including for a sold-out show in Dublin's Aviva Stadium.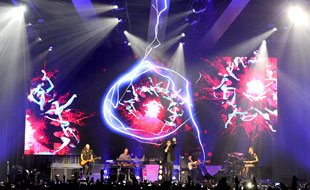 Adlib's crew – including Systems Engineer and KSE, Tony Szabo with Marc Peers who is looking after monitors for engineer Paul 'Mini' Moore – are touring a total of 48 K1 cabinets, with 16 K1-SBs and 18 L-Acoustics SB28s for low end.
In the largest configurations, 14 K1s are flown per side with four Kara downs per array. Behind these are eight flown K1-SB sus providing solid bottom end sound that is distinctive to The Script. The side hangs (left and right) comprise ten K1s with six Kara downs.
Two further upstage hangs of four ARCS II speakers are used when the seating has been sold 270° around the arena. These produce a combined 90° of vertical coverage with plenty of additional headroom for more power.
These ARCS II arrays are also travelled in custom dollies in that same format, complete with all cabling, to simplify get-ins and outs.
On the floor, the SB28s are run in cardioid mode in an LCR arrangement, with the centre section secreted under the stage but in line with the main stacks. This optimises low-end coverage in all venues. For atmospheric rumble, Adlib has added four L-Acoustics SB28 subs across the back of the stage, and an MP4 drum sub.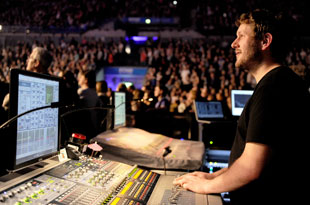 Szabo spent time at set builders LS Live, in Wakefield, to ensure that these sonic requests were fulfilled, which included manufacturing some bespoke hanging bracketry for the front lip fills – four single drops of Kara – which are hung off of the actual stage. Sitting on top of the left and right sub stacks (further out) are four additional Arcs cabinets providing extra support to the lip fills.
All the L-Acoustics speakers are driven by LA8 amplifiers. A standard Adlib processing rack contains Lake LM44 and 26 processors, all running Dante over TAC-4 fibre links to maintain the digital signal for as long as possible. The Lake processors are fine tuned via a wireless tablet, together with Meyer SIM 3 measurement – a favourite Szabo tool - for assuring super-accurate EQ and time alignment. He's found this combination powerful and stable.
Ahead of the tour Szabo and his team used the latest version of L-Acoustics' Soundvision to map out their overall sound requirements. They were also able to get involved early on in the design of the 30m-wide stage set conceived by Jamie Thompson (also the LD) – which incorporates a substantial amount of inbuilt LED elements – and advise on audio special needs in relation to this, in particular the location of the sub stacks and fills.
Adlib's Richard Nicholson (FOH engineer) mixes the shows on an Avid Profile console, which he has specified for the past two years and is still his current choice: 'It's great knowing you can source one almost anywhere in the world,' he confirms. He uses a Neve preamp and a Distresser on lead singer Danny O'Donoghue's vocal, and all the other effects in the show are onboard the desk.
The monitor set-up is relatively straightforward. Mini uses one of Adlib's Soundcraft Vi6 consoles to mix, and the band have their own Sennheiser IEM systems.
Ian Quinn is the band's long-time Tour Manager and Bob O'Brien is production manager for this tour and worldwide. 'Adlib is an essential piece of the puzzle and their commitment to everything is immense,' O'Brien says. 'It's a privilege to be leading a team of guys with such a passion for what they do and who pay so much attention to detail. The equipment is also second to none.'
'It has been fascinating to watch the band develop their live performance over the past three years,' says Adlib Account Manager, Phil Kielty. 'They always get creative and continue to change and enhance the live experience for their fans. From sold-out shows in Dublin from the outset, to two nights at the O2 Arena in London, they always give 100 per cent – it truly is a pleasure being involved with such a stunning band.'
Over the past four years The Script have sold over 4m albums and 10m singles, making them one of Ireland's best loved bands around the globe.
More: www.adlibsolutions.co.uk
More: www.l-acoustics.com