The Nashville studio of F Reid Shippen has been busy mixing music and grabbing Grammys – for Best Country Duo/Group Performance with his mix of the song 'Pontoon' for Little Big Town, and Best Contemporary Christian Music Album for mixing TobyMac's Eye On It album – from a total of seven niminations. He is also nominated for Audio Engineer of the Year at the coming Academy of Country Music Awards.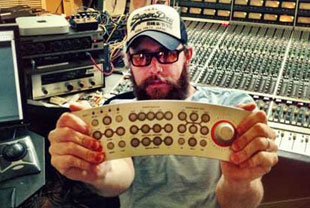 The studio set-up that has helped bring these successes features a highly modified SSL 4000E/G+ mixing desk and Dangerous 2-Bus summing amp.
'The SSL is for that classic killer sound, but some stuff doesn't need that, and some stuff even gets hurt by it,' he says, 'I use the Dangerous to blend those sounds in with the mix buss of the console.'
With the Dangerous Monitor ST and DAC ST and Additional Switching System providing studio monitor control and listening reference, Shippen recently added a Dangerous BAX EQ to the set-up.
'It is an awesome piece of gear,' he reports. 'I've been looking for years, maybe a decade, for an effective high-pass filter that can take the infrasonic muck out of a mix, without destroying what's going on in the bottom end. And the BAX EQ is the only one that I've ever found that can do that. Add a little bang back in, right in the kick drum area, like 74Hz, and it's perfect. It's killer.
'All of my monitoring goes through the Monitor ST with the Dangerous DAC, and in my opinion every studio should have one of these,' he continues. 'It's not an option to monitor through the SSL. I was just tracking at another studio recently and I was desperately wishing that that I could have brought my Monitor ST, because I would really prefer to listen through that than through the console. I have three sets of speakers that I rotate through,' he says referring to the ST's ability to switch between up to three pairs of speakers.
'I tried every single summing box, and chose the Dangerous 2-Bus. It's designed by [Dangerous Music electronics designer] Chris Muth, and I've always really respected his work. I know that I can walk into [Greg] Calbi's mastering room at Sterling Sound and there would be Dangerous gear in the rack – that gives me a lot of confidence. It does what it's supposed to do and doesn't get in the way, which is really nice. If it's good enough for Ted Jensen and Greg Calbi, it's good enough for anybody.'
Although Shippen has both the Dangerous 2-Bus and an SSL 4000, he has specific uses for each to get the sound of the mix of tracks he wants.
'The 4K that I have is really good at certain things like rock drums, and electric guitars, and basses and stuff like that.,' he explains. 'When you want to impart character, color, or you want to do some damage, or if you need to do triage on tracks, the 4K has a character to it. There's other things you don't want to pound through the SSL, you don't want to put low kick drums, or samples that have already been EQ'd or certain things that don't need the processing. I also use mix bus compression on my SSL, and sometimes I want stuff to not go through the 2-mix compressor.
'The Dangerous 2-Bus is basically the last step in the chain before my converters. That allows me to take a feed from the console and a feed from Pro Tools, and decide what gets treated and what doesn't. Then the 2-Bus sums everything together and puts it into my Lavry Gold converter.
'There are certain types of music that work better through the Dangerous 2-Bus than through a console, certain types of pop music. I don't want character; I just want what it is. I can send that to the 2-Bus and have what I want.'
More: www.dangerousmusic.com
More: www.robotlemon.com