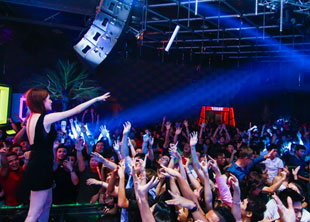 From start-up to a year on, the Johor nightclub scene, the I-Beam Bar has become one of Malaysia's most popular venues and is well-known among clubbers in Kuala Lumpur, a two-hour journey away. The club offers both live music and DJs to 1,500 guests, served with the best in lights, effects and sound.
The bar's popularity led owners to expand its sound system soon after opening – and in doing so, doubling the DAS Audio sound presence in time for the club's one year anniversary. The, contracted DAS Audio distributor Search Music to handle the installation, in close co-operation with DAS Audio Asia Systems Engineer, Ron Koh.
The biggest challenge in a venue of this size – the I-Beam Bar has a 90ft by 80ft main area with ceiling heights ranging between 17 and 20 feet – is achieving even coverage throughout the bar. In response, the sound team doubled the number of loudspeakers in the main FOH system – four DAS Audio Aero 8A units were added to I-Beam's existing eight, bring the total to 12 Aero 8As flown in matched clusters per side. Eight of the compact, full-range Avant 15A systems were also added to the mix as delay fills for an extra punch.
The sound designers opted to boost the low frequency support as well, adding DAS Audio LX-218CA systems for a total of eight cabinets set up in a typical left-right configuration. Four new Avant 12A systems serve as DJ monitors and four Action M12As as stage monitors. Avant 118A boxes handle side fill, and the system is rounded out with a DAS DSP-2060 and DSP-4080 digital signal processor.
The upgraded sound with the expanded professional DAS Audio systems has been a resounding success and I-Beam Bar's one-year anniversary is reported as 'an event to be remembered'.
More: www.dasaudio.com